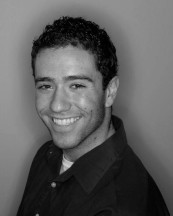 Flashback to some years ago: San Ramon Valley High Senior Ball. What should have been an amazing night was, for some reason, falling short. Then, in a moment, it all changed. Those in attendance will tell the story of a guy who was just brave (or crazy) enough to hop on stage unannounced and lead the entire senior class in the Cha Cha Slide. The rest of the party? Epic. That guy? Well, that was Ben Gershen, and Ben Gershen likes to dance.
Summers partially spent as a counselor and programmer at Camp Tawonga (near Yosemite) have made him legendary for teaching classes on how to "shuffle" and, well, as the kids retell it… This one time at camp, some unexpected rain threatened to ruin the fun that was to be had by all. Needless to say, morale was low — until Ben sprung into action. He rallied all the campers in the dining hall, threw on some tunes, grabbed the mic, and did what he does. It led to, as he explains, "the… sickest… dance party."
As we mentioned, Ben Gershen likes to dance.
He also likes to grab a microphone, and we were more than happy to let him. Ben attributes much of his success as a MC/DJ to his background in dance. He understands the energy and rhythm of a party and brings a dancer's perspective to every event he is a part of. To put it simply, he knows what rocks. He also knows his value as a performer. After all, Ben and his family chose Denon & Doyle to perform at his own Bar Mitzvah years ago. He remembers how important that day was for him and loves being able to return the favor for others, no matter the age or type of celebration.
Besides, he knows if he does his job right, it's another chance to dance the night away and we all know that if one thing is true, it's that Ben Gershen likes to dance.


"THANK YOU THANK YOU THANK YOU! Abby's party at Piatti's was off the charts fun for her, the kids, our huge extended family, and Gary and I, too. We had a magical day and could not have done it without Ben and his team. Ben has the perfect personality, warmth, energy and enthusiasm to run a bat mitzvah and we are so grateful. He did a tremendous job!
Of course you have adoring fans all over the Bay Area but I'm always happy to be a reference or a testimonial. With our sincere thanks,"
-Suzanne Alpert, Piatti's, May 21
"We had a great time. Your crew was beyond awesome!
Ben was fabulous. The kids and the adults loved him and the dancers. The kids want them for their graduation next year! My daughter Leilah's bat mitvah is in 2018 and we will be reserving you all for that event too.
Thanks again!"
-Nyla Goode, San Francisco Olympic Club, May 21
"Wanted to let you know that Mason, Ben and crew did an awesome job! Everyone had a blast!! The dance floor was never empty which I think is a great sign. What a nice crew you have, I hope they thought everything went well."
-Allison Hogan, Contra Costa Country Club, April 16
"I did want to quickly say that the party Saturday night went extremely well and that Ben and the rest of the team did a fantastic job. Leila had a great time, as you can perhaps glean from this photo of her with Ben and Emily. More soon, but wanted to initially say what a memorable night it was."
-Steven Bliss, Lafayette Veteran's Memorial Hall, February 20
"I just wanted to thank you again for the tremendous job that D&D did for Jack and Mackenzie's b'nai mitzvah. I can't begin to count the number of compliments I've gotten about Patrick and the crew — they MADE the party. You are incredibly talented, and I feel very fortunate that you were such an important part of our event. Thanks again for everything. I hope we get a chance to work together again in the future. I know you are not lacking for referrals, but please feel free to add me to your list of very, very happy customers."
-Sharon Bunzel, Pleasant Hill Community Center, January 23
"Great party and everyone had a wonderful time and loved Ben and the D&D crew. Ben was very tuned into the kid energy and is just such a nice guy! We also really appreciated that he came all the way in from Tahoe and is so supportive of our family. Also, we're so glad we went with your TV/DVD set-up. It was expensive but it was worth it and looked great. We had it running off to the side but very visible throughout the party and everyone really enjoyed it. I also heard a couple of comments that Bella did a great job getting kids onto the floor once the dancing got going. I like the D&D way of enticing rather than pushing. Plus the boys were up on the stage doing their thing for a while and that was very cute. MANY KUDOS!!!!!!!!!!"
-Lisa Penn, Foster City Rec Center, January 2
"It was a fantastic party! There were so many people that said it was the "best party ever"! Everyone had a great time. I was surprised that many adults stayed until the end. Ben, David, Samantha and Emily were terrific. They *made* the party. There was an electricity to the night that was so exciting and they made Anna feel like a princess. I appreciated Ben checking with me on certain song requests – and then downloading the song. My 18-year-old son marveled that Ben was able to get all of the 13-year-old boys to participate, instead of trying to be too cool. Thank you for a fabulous evening. Anna (and others) will remember the party for their entire lives."
-Sheri Novack, Mitchell Park Community Center, December 5
"We did have the best time ever! Ben, Justin and Stina were amazing. They really got the kids dancing for HOURS! The music was perfect and the games were fun. I can't think of anything they could have done better. Thanks."
-Mikki Wilson, I.D.D.E.S.T. Hall, October 17
"I meant to call you and tell you in person everything was absolutely Awesome. We have people calling and telling us they had the best time. Most important, we enjoyed it very much . I truly think it could not get any better. Everything was very professional and coordinated. Thanks for making it go very smooth. If you ever need a recommendation , you can share my contact info. You can also share music selection with your future Russian customers :)"
-Peter Kozakov, Peninsula Temple Sholom, October 3
"Ben and crew did a fantastic job and we would have no reservations in recommending them to our friends. They are were very professional, very prompt, very helpful and did a great job at keeping the energy going for the party all night long. They did a wonderful job with the kids and games during the cocktail hour. They did the right amount of Jewish dancing. However, they were not overbearing on the guests. I had a wonderful time and got many compliments on the DJ from my guests."
-Cheryl Heiman, The Saint Claire Hotel, December 6
"Thank you so much for all you did to make sure Sarah's Bat Mitzvah party was fabulous. From the moment we started to the final dancing song, everyone was inspiring both kids and adults to play, dance, sing, participate and generally have a good time. Sarah was thrilled and we're glad we worked out the Photo Booth and the Tattoos as well. I am recommending you to all of our friends now planning their B'nai Mitzvahs as well. And of course we'll talk in the Spring about the 8th grade blow out graduation dance at MVMS. Appreciate everything. You guys are the best."
-Deborah Goldman, Mill Valley Outdoor Art Club, November 8
"Thanks for the follow up. I think the exact quote I have heard from just about everyone was that Ben was the 'best DJ we have ever seen.' The whole crew was great. This was a very energetic group and they all matched that energy. The adults loved that they played older music to start and we pretty much never stopped dancing! Kids and adults! The kids never stopped and it was obvious how much fun they all were having! The flow was perfection. Thanks again!"
-Leah Solter, Terra Event Facility, September 13
"Everyone is so happy about Saturday. As I expressed to Ben, people came up to me during the party and these past days commenting on everything from the way they engaged all ages in the crowd to the amazing lighting and effects.It was a pleasure to work with both you and Ben. You really listened to what we wanted and never pushed us to do anything Kiara was not comfortable with. Whenever I thought of something, Ben was already there taking care of it. Thanks for everything."
-Kate Kunnes, Temple Isaiah, August 2
"I want to thank you for such an amazing party! You guys provided such a fantastic atmosphere, with non-stop energy! Every detail was perfect! I couldn't even believe how incredibly kind and polite every single member of the group was! Such a nice group!!! What an amazing group of young people you have working for you, Dan! I wish them all wonderful things in life. What a great group!
I can't even tell you how thankful I am for their commitment to being the utmost professional, polite, cheerful, helpful group. Any recommendations I can ever give any of you please let me know. I can't tell you how many compliments we received for all of you."
-Julie Mitchell, College of San Mateo, June 7
"OMG, Ben was awesome and so was the whole team. After a wonderful bar mitzvah service, everyone was ready to eat, play and dance. What a great party! We had amazing food, great jazz played by my older son's jazz combo and wonderful games and dancing with Ben. I really appreciate Ben's skill with the kids, his genuine love for what he does, the way he stayed in close contact with me during the party to check in about various things and the way he managed the whole evening. After the first set, things were going really well and I felt like we were in good hands. Ben got who we are and how we like to do things and that made a huge difference to me. It was not the kind of LA showy stuff I grew up with, not by any means. So even though we were running a little late on our timeframe plan, I told Ben I was happy to turn the party over to him to keep things moving as needed.
Kalil and his friends had a wonderful time (and so did the adults)! I have already sent a referral to you from one of Kalil's classmates' parents who asked about how to contact Ben. Will be happy to do so again. Thank you again and please let Ben and the team know we were delighted with their work. All the best."
-Miriam Mousaioff, Mills College, May 31
"Everything was great! Ben was amazing to work with and everyone had a blast. I will continue to recommend you with much enthusiasm! Thanks for making a stressful time much easier for me."
-Monica Podlesh, The Mountain Winery, May 17
"The thanks go to you! We had the most amazing time ever, as did every single one of our guests. Ben and crew were absolutely outstanding! Ben – you kept the crowd happy, moving and engaged with one another. It's rare to see the entire up on their feet and dancing the whole time; besides a quick dinner, our seats were empty. You were truly amazing, with the help of your able crew. We feel lucky you were part of making our event the one to remember. Thanks for everything!"
-Julia Kaplan, Piedmont Veteren's Memorial Building, March 29
"We were very happy with Ben and the DJ and the dancers. They were great with all the kids. The dancers even helped me with my centerpieces when I needed to go home and get dressed for the party. I REALLY appreciated that! I have nothing negative to say about Ben or how the evening went! It was perfect! Thank you so much!"
-Linda Carp, Beth Chiam, March 22
"Wow, that pretty much sums it up! What a fantastic evening!! Thank you for making Paulina's bat mitzvah celebration so very special. Our guests from the oldest down to the youngest had a super time. Your team were even able to convince our shy daughter to participate in the games on the dance floor during cocktails and then got her back on the dance floor for actual dancing(!) later in the evening. A first!! The professionalism, enthusiasm, sense of timing, and sixth sense for knowing what the crowd wanted was superb. Your entire team from Ben (the true master of ceremony) to the motivators (so fun!) to the photo booth attendant were so charismatic and energetic that there was no way our group was not going to have a special time. Thank you! We cannot wait until 2016 when our next daughter celebrates her bat mitvah. We hope D&D and Ben will be around to celebrate with us again. We would not change a thing!!"
-Courtney Klinge, Presidio Log Cabin, February 8
"FUN FUN FUN!!! Just wanted to let you know that Ben did a great job! The silent disco was FANTASTIC!!! OMG – better than I even remembered it from the first time I saw one. Everyone loved it. The whole thing was perfect. There you have it. LOVED the night! Great lights, Great energy, Great music!!!
-Lisa Rudenstein, The Vibe, February 1
"Ben and Joel were GREAT!!!!! The kids were all saying that they were the best deejays ever! We were all very happy with the party. Ben was engaging and fun and genuinely engaged with the kids. They couldn't get enough of him. They were all clumped up as close to him as they could get dancing in a big huddle. It was pretty funny! THANK YOU for everything. Ben and Joel really made the party!"
-Cathy Rosenfeld, Lake Merritt Hotel, January 18
"Last night was amazing, and it was in large part to [Ben] and [his] team! The 4 of [them] worked so hard and the party was over the top! I want to thank all of you for making the night such a memorable and fun time. The energy and enthusiasm was contagious! Everyone had a wonderful time, and there was not one kid who didn't participate. Watching them all together was such a joy and the compliments I had were continuous. Looking at the photos today, it was such a delight to see adults having as much fun (if not more) and seeing the dance floor filled all night. Thank you for your professionalism and for helping out when the catering staff had fallen down on their job. I really appreciated how [they] all stepped in without being asked and allowed me to return to my guests. I have already had several parents contact me to tell me that their kids said it was the most fun Bat Mitzvah ever. I am singing your praises so I know that we will be seeing you again at an event soon! You truly made the party and we will be forever grateful!"
-Laurie Biros, Etz Chayim Syagogue, January 11
"Ben and the team were great. All the guests had a wonderful time, the evening flowed well, the energy level was high and positive throughout, and we would have no hesitation about recommending this team to others. Ben was wonderful, gave us heads-up when we needed it, kept the kids involved, and kept the flow going throughout the evening. I don't recall there being any lulls in the evening, which speaks to the skill of the team because avoiding lulls can be difficult. The music selection was also great, as attested by the fact that somebody was dancing or engaging in some activity on the dance floor the entire evening (again, no lulls). The kids, as they were walking out, seemed truly jazzed. I imagine Ally will be hearing more of this at school today. I'll let you know if she hears anything different from the above. All in all, great job to everyone!"
-Gene Manyak, Peninsula Temple Shalom, December 7
"A big huge thanks to all your team for doing a stellar job on Saturday at Rachel's Bat Mitzvah! With 85 kids, your team ended up being even more important than we realized, and Ben was amazing, keeping everything flowing and endlessly fun for kids and adults alike!"
-Estee Neuwirth-Stein, Temple Isaiah, November 30
"Ben did a fantastic job last night and it was just a fabulous time. Thank you for everything!! Natasha thought Ben was awesome and she felt bad that she did not get to say good night and thank him for all his hard work!! Please tell him that we were thrilled with everything."
-Debbie Arnowwitz, Corte Madera Rec Center, November 9
"I had to write to tell you what an amazing time all of our guests had last night. And when I say "all" of our guests, I mean that literally. Everyone from age 4 to age 80 was up dancing for some or all of the night. Joel, Ben, Alex (and forgive me, I did not get the other dancer's name…could you please tell me? ) were an absolutely INCREDIBLE team. They made sure we got EXACTLY what our vision was for the party (a dance party where kids and adults would be involved and having a blast). So thank you and please thank every member of your great team that helped us out last night. Can we please book those 4 for our son's bar mitzvah on 6-4-16? He says he wants "the exact same thing" ( :"
-Dayna Chalif, College of San Mateo, November 2
"Thank you! The party was fantastic thanks to the amazing work of Ben, Jake, Alex and Anthony. They were all such a pleasure to work with and worked hard all night to ensure the party was a success. Thank you!!"
-Leslie Matlof, Unviersity Club of Palo Alto, October 26
"The "showing" of both the DJ and the emcee were beyond terrific. These guys really showed up and brought excitement and personality to the BM. And Mo, the director of the photo booth – was such a good guy, and created an inviting/helpful ambience for all those kids to have the time of a lifetime. Everything, in my eyes was a huge success!! The party was a hit!! Very talented and personable group of three guys. Glad they were there on Saturday night for us. I will give Denon and Doyle a high recommendation for others doing a party or event. Thanks so much Dan to you and your entire staff."
-Maxine Cohen, Harbor Point Racquet Club, October 19
"Ben, I can't thank you enough for the amazing job that you did at the party. Not only did ensure that everyone had a fun time, you made Jennifer feel really special. I was told that Denon and Doyle is the "gold standard" and now I know why."
-Ilissa Best, Sharon Heights Country Club, September 21
"Ben and his crew did an amazing job! From getting there early and having everything set up to checking in with me all night! They were beyond excellent and made the party better then I expected. The guests had a great time and didn't want it to end. Ben and his team were very professional but still personable and even willing to help at the end of the night with loading my car. I can't even thank them enough for the wonderful job they did!"
-Mikki Wilson, Presidio Yacht Club, September 7
"As I had expected, Ben and Joel were FANTASTIC. They kept the crowd motivated, spun great tunes and we all had fun. THANKS."
-Gail Berston, Belvedere Tennis Club, August 31
"I am not exaggerating when I say I could not have been more pleased. Everything was so great. Your staff was amazing, you provided more than we expected and you made the party amazing. I have only heard great things. There is no doubt that your staff and your business considerably enhanced the party and made it an memorable experience."
-Alice Cartwright, Dante Club, August 24
"We love Ben he is great, can't wait to have him on another event! The party was a success, thanks again!"
-Annette Molina, Private Residence, August 18
"No words. There are no words. Ben and Joel did a phenomenal job last night! Everyone, I mean everyone had a blast! Daniel will carry the fun and love of that special evening with him always. I told mike to go with you; that you get what you pay for and our expectations were exceeded! Mike thanked me for encouraging him to go with you. So from the bottom of our hearts, thank you, thank Ben and Joel for making such a significant evening so so meaningful and special. The look of pure joy on Daniels face as he was lifted in that chair, doing the horah, the circle created at the end to hold Daniel, the mother son dance, the games, giveaways etc are memories to carry for a lifetime! So thank you!!!"
-Sarah Ritthaler, Peacock Gap Country Club, July 13
"We and all our guests did indeed have the BEST time ever!!! Ben and the crew were perfect – so much fun. Ben really "got" what Sophie wanted. Everyone from age 3 to 80 loved the party and couldn't stop talking about it. I will send more comments soon — still have family in town and still tired out from everything — but I wish I could go to that party every day. One of the fun parts about it was that our whole crew of helpers was having as much fun as the guests. And it was great that Sophie already knew Ben."
-Lisa Penn, Foster City Rec Center, June 15
"Ben, Thank you SO much! You guys were absolutely fantastic! Everyone had such a wonderful time last night – you engaged the kids and the adults, played great music, had fun games, kept everything on schedule (and were even willing to be flexible on the fly with the schedule – moving the slideshow up to accommodate some guests that needed to leave early) and everything went more smoothly than I could have imagined. You really did an amazing job and we are very grateful. Everyone there was extremely impressed with you and your team and I am sure you will be getting some business out of it!"
-Emily Nozick, Mira Vista Country Club, May 4
"I have been meaning to write to you. We had an amazing time and your team was great! I felt well taken care of and comforted in knowing everyone would have fun. The photo booth was definitely a huge hit, as was Ben and the gang. There is a buzz going and am sure you will get some new business! I will certainly write on Ben's website. Ben was very professional and accessible. The team worked well in engaging the kids and all went well. As it turned out, Deer Park had an amp and mic all set up when Ben got there–so he let me know about that when I arrived. I am glad your team had fun too. My friends loved it, and I will no doubt use you guys again when my youngest has her bat mitzvah event in two years."
-Dina Leitch, Deer Park Villa, April 27
"Ben, Dana, the DJ and "The Photo Guy" were awesome! They really gave it their all. My guests comments: "…best party I've been to…" "…who are these guys? They're great!" Please thank them again for their hard work. Thanks to D&D for another successful event!"
-Kim Lazarus, Peninsula Golf & Country Club, March 9
"I just want to thank Ben and his team (DJ, Photobooth person and motivators) for a FABULOUS job on Saturday, Jan 12th for my daughter Ari's bat mitzvah…I'm ready to book you for my next daughter's Nicki's bat mitzvah on Sept 6, 2014! Ben and his team did a fabulous job. I didn't have to worry about the party flow…the kids were dancing for 4 hours non-stop. I'm glad you suggested the father/daughter dance. Both Ari and her father had lots of fun with it."
-Stri Zulch, Postino's Restaurant, January 12
"Thanks so much, dan…the event was very successful and ben was amazing!"
-Jason Shulman, Muir Woods Community Center, November 24
"The event was awesome. Ben was a rock star and we greatly appreciated having him there. We will definitely be using you guys again in the future- our experience was smooth and stress free so thank you."
-Spencer Naar, San Francisco City Club, November 15
"Ben and the crew were incredible. Isaac, who never expresses his feelings, went on and on about how much he liked Ben. He said his friends all had a great time. The adults were all impressed as well. One cousin's son just had his Bar Mitzvah celebration 2 weeks ago in New Orleans. His mom went on about how incredible the crew was. When I picked Isaac up from school yesterday, he said the kids were still talking about the party. Can't get a better review than that!"
-Doris Omi, Danville Community Center, November 3
"Ben and David were a great team. Ben was on top of every detail, a total pro at working with our caterer and photographer so that we could relax, and everyone said they had a wonderful time at the party. We've already forwarded Ben's and Denon & Doyle's name to a couple folks who liked him at the party and are looking for a DJ for their own events. We would definitely use Denon & Doyle again, and wholeheartedly recommend all of you."
-Alisa Morrill, UC Berkeley Faculty Club, October 27
"You should know what a big hit Ben was at Maia's bat mitzvah Saturday night! We had to turn on the house lights and kick people out at 10:30– no one wanted to leave! Great credit to Ben for connecting with the kids, being age-appropriate AND cool, for being flexible and authentic. He is a great asset to your company. Thank you for sharing him with us for Maia's most special day."
-Joni Shwarts, Lafayette Veteran's Memorial Hall, September 29
"Ben was so fantastic! We so appreciate Ben coming up last minute to make everything happen. He fit right in, and we know that he was meant to be there. It felt like he was a guest at our wedding. We have had tons of compliments on him and will certainly recommend Denon and Doyle and Ben specifically, going forward. Thanks so much for all of your help and support!"
-Tricia Piers, River Ranch Lodge, September 8
"I just wanted you to know that your guys did an absolutely spectacular job at Leo's Bar Mitzvah this weekend. They were the life of the party- they moved everything along without a hitch- they were helpful and pleasant to every single guest, child and adult alike. The music was great and the party was amazing. Initially, I was a little concerned over the cost initially- I now believe it was the best money I spent. I can't wait to see the pictures- especially of my 10 year old daughter and friends dancing on the stage to Ali's moves… Also, Ben is a superstar. That dude is going places. He brought a great vibe that infused the entire party- and he connected with Leo really well too."
-Lani Gershik, Marin Country Club, May 12
"The event was great, and Ben, Justin, Kaitlyn, Sarah, and Aaron all did an amazing job. Ben was perfect as the MC and really kept everything moving. Everyone worked well as a team, including Sarah who I noticed pitched in with everyone else."
-Jodi Cruse, Poplar Creek Grill, May 5
"The evening went great. Ben and Seth made sure the kids had a great time and even got the parents up and dancing. We are very happy. Please let Ben and Seth know that we were pleased. We will pass along the good word to the next generation of bar and bat mitzvah kids we encounter! "
-Leslie Crary, Magnes Museum, March 31
"DJ:Seth and MC: Ben were OUTSTANDING1!! Our son Darren had the best 13th birthday ever. He couldn't stop thanking us. His friends have been blowing up his cell with text messages: "Best party ever!", "Have one every year" etc.. Seth and Ben kept the party moving all night long, which is hard to do with 50 teenagers. They were also a Huge Hit with the parents . I would highly recommend this duo for any party or event. They are two quality guys. Thanks so much for making it a memorable night for all. Denon & Doyle, very professional all the way through."
-Melissa Baker, Granite Bay Golf Club, February 11
"The booth and Ben were above and beyond our expectations. We thank you for an excellent service."
-Yujin Kawase, One & Co., December 15
"The event was a lot of fun, and Ben was fantastic to work with. The room where we had photos and crafts was a little crowded, but the kids had a great time! Thanks again for your help coordinating details, and please thank Ben for us. Everything worked out really well."
-Aimee Carlson, RS Investments, December 13
"Aj, tj and ben were awesome. What a team! Aj is a masterful mc who created a wholesome nightclub atmosphere that engaged the 13 year olds the entire time. He was cool, fun, in control in a non-showy, unobtrusive way, had an impressive ability to read the crowd and timed transitions brilliantly. Ben was a charismatic and amazing dancer who worked the kids so well and jt was flawless at mixing the music with entertaining transitions that added to the fun. The kids were buzzing with positive comments "this party was awesome" and aj really made our twin bnei mitzva boys feel special."
-Cindy Fenton, Mill Valley Golf Course, May 30
"We all had a wonderful time at Anna's party. Seth, Ben , Ashley and you were all fabulous. I have been getting e-mails and calls from the families of Anna's friends telling us how much fun their kids had at the party. Anna was so happy with everything. She appreciated that you played the music and games that she requested. As a parent , I appreciated how you kept the party moving the entire night. Everyone was entertained and having a blast. My nieces and nephews did not want to leave! The photo bar was a hit and Anna friends all had the keychains on their backpacks at school today. Thanks again for going the extra mile! I will always recommend Denon and Doyle to whoever asks what DJ they should use at their next party!"
-Debbie Kurzrock, Peninsula Temple Sholom, February 20