Our Groupon Deal is for a DIY Selfie Photo Booth Set weekend rental.   It includes what you see here.  Does not include delivery, printers or staffing.  If you are looking for a full featured photo booth (Not DIY) we would be happy to apply your Groupon as a $295 credit to any of our other photo booths.
This fun twist on a Photo Booth plays off your guests desire to pull out their smartphones and use their own photography skills!  At $295 for a full weekend rental, our DIY Photo Booth is an inexpensive way add all the laughs and fun of a photo booth, but at very little cost.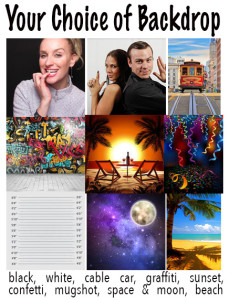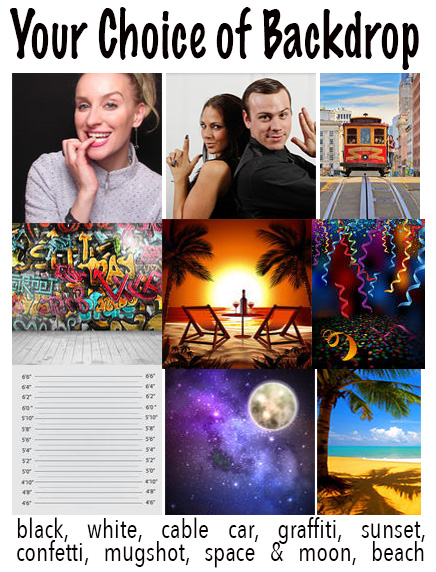 Your guests get to play photographer as they pose their friends in front of our well-lit self explanitory photo set.  Works best if you create a custom #hashtag for your event and have your guests share their photos via instagram or twitter so all can enjoy the moments instantly.
You can go with a simple Black or white curtain or one of our photo backdrops.  Want something even more custom…for an additional $195 we can even order a custom printed backdrop including a monogram or "step & repeat" for a true red carpet experience.
***Does not include delivery or set-up.  Simply pick up from our Pleasant Hill studios on Friday and return on Monday.  This takes about 10 to 20 minutes to assemble***

includes

• Your choice of backdrops
• Two Battery operated LED photo lights to illuminate the set
• Travel Bags

faq
How much space does it take up? 
The photo set is 6 feet wide by 3 feet deep
Is there anyway you can deliver and set this up? We can but we do charge $50 per hour tech fee (covers driving time and time on location). However, if you are using one of our Disc Jockeys or lighting packages we can usually send it with our crews eliminating any additional charges.
Will it fit in may car? Yes.  Largest piece is the backdrop at 51/2 feet wide, but everything should fit in a back seat.
How do the photos get taken? Your guests use their smart phones and act as photographer.
Does it print out the photos?  No, if you are looking for prints you may be interested in our full featured open style or classic photo booths.
How do we get copies of the photos our guests take?  We suggest you come up with a unique #hashtag and have your guests share their photos via twitter or instagram. Your guests are instructed to use it by the provided blackboard sign that hangs on the side of the photo booth. Your photos are instantly available to all your guests.
How many guests can get in the photos? Ideally 2 to 8 guests, but you can get a dozen in if they get real friendly:)

popular options

• Upgrades to one of our Classic Style Photo Booths or Photo Shoots with a live photographer
• Custom Printed Backdrops or step and repeats giving this a red carpet experience
• Also explore our website for many other great ideas!