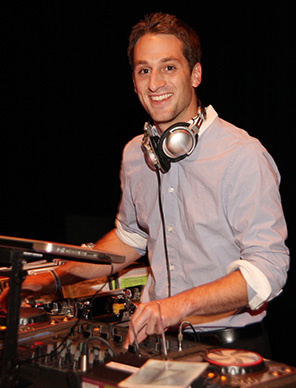 Versatile. Multi-Talented. Utility Player. Diverse. Simply put, the guy can do anything. Whether he is behind the mic, the board, or a camera, Justin's interests and hobbies range as far and wide as the music he plays.
As an only-child growing up in Littleton, Colorado, staying at home was simply not an option. With so much to do outdoors, Justin refused to be bored and used his lack of siblings to his advantage. It's why he is a people person and loves meeting folks from all walks of life. It's why people love him.
Justin will tell you that it's also why he is never unhappy.
The irony of using a double negative to describe his most positive trait is something Justin's poetic side can appreciate. Yes, he is a poet.
When not holding a pen and pad, Justin may have his hands tangled up in yarn. He confesses that finger-weaving and knitting are very relaxing (and he has a scarf or two to prove it). Think the grandparents won't love him?
This is the same guy who, in high school, was on both the hockey team and the choir (or as Justin calls it, "an untapped resource for cute girls"). When asked what he hits better, High C as a Baritone or people on ice skates, he responded with this: "I never hit anyone, I just stopped them from hitting me." He luckily escaped Colorado with all of his teeth in place and has since built up quite a following here in the Bay Area.
People love that he brings a cool factor to a party but still knows how to involve guests of all ages. His versatility is evident in that even the Kids-Party circuit sings his praises. They, however, like to call him "DJ Justin Bieber," for no reason other than he shares the same first name and doesn't have the heart to correct overjoyed 13-year-olds, especially when his actual last name is much more difficult to pronounce (and can net you a whopping 174 points on a Scrabble or "Words With Friends" board when strategically placed). Once the party gets going, there's no denying the talents of this versatile MC/DJ. "If I can get all age groups on the dance floor at the same time, and have Grandma fist-pumping by the end of the party," Justin explains, "then I did my job."


"OMG..I have been meaning to write you Dan!  We had THE BEST NIGHT!!  Everyone was 100% amazing!  There is nothing that I wouldn't have changed, I really loved every single second and didn't want the night to end..the music and your energy made the whole night…I am still reeling from it!  Thank you, thank you!  We will give you a great review and if you ever need a glowing recommendation, we are your girls!!  Please don't hesitate to ask and from the bottom of our hearts, thank you for making such an important and memorable milestone is our lives perfect!!!"
-Daren Tuchman, Sharon Heights Country Club, June 4
"Justin and Chad were fantastic!  Lucy and her friends had a blast, and I really can't make any suggestions for improvements.  The guys struck the right chord all night as far as I can tell. I'm not much of a social media participant, but I will highly recommend Denon and Doyle to my friends."
-Wendy Stovell, Firehouse 8, May 21