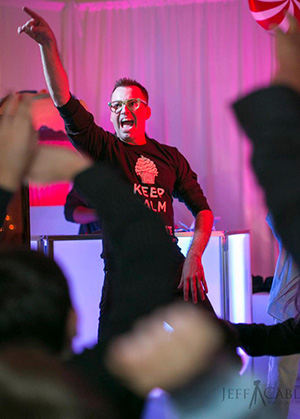 "Mr. Happy"
Mark — "just call me Addington" — Addington is controlled chaos. He loves parties to the extent the law will allow. Understand, he tried to do other things. With his degree in journalism, he went to work at a television station — it was too cut throat. He then tried radio, but he honestly missed seeing the people he was supposed to be talking to. How about newspaper? He says he'd rather line a birdcage with what the editors did to his stories.
Then he found two turntables and a microphone — the clouds parted and angels began to sing. Never mind that it was for the guy in the next room who was being canonized: Mark has found his calling.
When you call our office and Addington answers, you're guaranteed to get Mr. Happy. See more photos of Mark in action


"We wanted to say thank you so much for being our DJ! You went above and beyond our expectations. You were an integral part of making our celebration such a fun night. You had everyone out on the dance floor boogying down! We can't thank you enough!!!"
-Kathryn Asprey, Lighthouse at Glen Cove, July 9
"Our day was full of activities and drinking but everyone we've seen since said it was a blast. Shea and Mark did an amazing job from the moment they got there. You could tell that they had experience doing weddings and they had no problem directing us as the day went on. They definitely kept an eye on the crowd and knew the right time to do move on to different events. They made it so we didn't have to worry about the day's schedule and that was amazing since we already had our hands full (especially in the days/weeks leading up to the wedding). Occasionally I'd have to step aside to deal with catering, beverages and photography but I never once had to worry about the DJ.
I don't know what else to say. They were great. We will definitely recommend them/D&D to friends."
-Gary Lopez, Monte Rio Community Center, June 11
"OMG..I have been meaning to write you Dan! We had THE BEST NIGHT!! Everyone was 100% amazing! There is nothing that I wouldn't have changed, I really loved every single second and didn't want the night to end..the music and your energy made the whole night…I am still reeling from it! Thank you, thank you! We will give you a great review and if you ever need a glowing recommendation, we are your girls!! Please don't hesitate to ask and from the bottom of our hearts, thank you for making such an important and memorable milestone is our lives perfect!!!"
-Daren Tuchman, Sharon Heights Country Club, June 4
"I know we spoke at the end of the event on Saturday, but I just wanted to send a follow-up note to thank you and your whole team for a FABULOUS event. I am a firm believer that a DJ or band can make or break an event, and I can't say enough about how you and your team absolutely made the event a huge success! I think those kids were dancing from the minute they arrived until you shut it down at the end of the night. And, we even got a lot of the adults out on the dance floor as well (we don't have to talk about the moms who took over the stage during AC/DC and Def Leppard.) You read the room/vibe/mood perfectly throughout the night, and were so responsive to all of our requests.
I think it's fair to say that everyone had a blast! I received many comments about the event and how much fun everyone had, and that is due, in large part, to you and your team. You absolutely rocked it! Well done!
Thank you so much."
-Ali Sandman, Sacramento Convention Center, May 21
"Mark and crew were outstanding. Chloe had an amazing night and loved the party. I think the DJ is probably the single most important part of making a party fun…and Mark definitely succeeded. He's very good at tricking people into dancing, which is an impressive skill. He managed to keep everything on schedule and adjust as necessary. Thanks for a great night!"
-Craig Zeldin, Sparky's Hot Rod Garage, May 14
"Thank you so much for helping to make Abby's event a total success last night. It is always great to work with all of you at D&D, and I really appreciate how hard you work! Looking forward to more events with you in the future."
-Tiffany Welch Klein, Rosecrest Special Events, Claremont Country Club, April 16
"Your team was FANTASTIC to the very end of the event. Their energy was UP the entire night and we loved how they spread out fun things to do throughout the night. It was really incredible and our guests are still talking about it. Most of the kids told us it was the best night of their life. Thank you for living up to that and giving Jasmine and Austin a night they will never forget! I have already posted a review on Yelp. Awesome experience."
-Sheri Nemerovski, Embassy Suites – San Rafael, March 12
"Thank you so much for everything you and your awesome crew did to make Ty's bar mitzvah the best ever!! You were awesome, energetic and kept everyone moving and entertained the whole night! The kids and adults all had the best time ever. We appreciated the updates and check-ins throughout the evening as well as the fact that you remembered to hand out our favors when we completely forgot. (Clearly you have done this before…)
Thank you, thank you, thank you."
-Jody Emanuel, Hilton Burlingame, February 20
"We had the BEST time ever! Everyone LOVED the energy your team brought to the party!!! I loved that Mark took care of stuff w/out even having to be asked…they were excellent about checking in with us throughout the party…in a nutshell, they were AWESOME! We can't wait for our next Bar Mitzvah celebration in 2018!!! Too bad we didn't have the date already because I'd book now:) In fact, I gave your info out to a couple of my guests who said they knew someone who was looking for DJ/MC."
-Stephanie Okabe Mates, Oakland Scottish Rite Center, December 12
"Words cannot express how amazing Mark, Chris, Addison & Nicole were at Nathan's Bar Mitzvah celebration– all of our guests had a blast! There were so many compliments on the music and entertainment– they enjoyed the fact that not only were the kids catered to, but also the adults. I truly am in awe of Mark & his team. Nathan felt so special and the team went out of their way to make that happen! We are looking forward to our next Bar Mitzvah celebration for our youngest Joshua! Thank you Mark & team for such a fabulous evening…it could have not been more perfect!"
-Pamela Molina, Congregation B'nai Tikvah, October 3
"Better than I could have imagined. Mark and his crew were at the top of their game! They got so into our theme. It was awesome and noticeable. They made the night and were the party. He had the kids dancing and adults from start to finish. Loved every single minute!!! I would never have a bash like that without Mark. Memories to last a lifetime thanks to his crew. Worth every single penny!!!!
Thanks!!!! I will see him at her wedding!!!! But give me a few (several) years!!!! All the best & happy to be a reference any time!"
-April Glatt, Peninsula Temple Sholom, August 1
"Mark and his team did a fabulous job! The kids had a great time, were engaged, and dancing, and are still talking about it! Laura was so happy with her party. We were, too. So good to work with Mark again."
-Wendy Ehrlich, Peninsula Temple Sholom, May 30
"The music was EXCELLENT!!!!! Mark totally LISTENED to our requests during our pre party meeting and took our requests very seriously. It was a pleasure to talk to him!!! The kids were engaged all the time with games/music.
Mark and his team were perfect. I wish I could have Mark and your DJ come to our house and host a party every month!!!! You guys rock!!!You were the ONLY provider with absolute "big head". This is a Hebrew way of saying people who can think out of the box, be responsible, independent and professional.
I'm so happy that we had Mark and his team rock our party!!!"
-Laura Myszne, Addison Penzak Jewish Community Center, March 28
"Mark and team were awesome! They read the crowd perfectly; engaged them when appropriate and let them hang when that is what they seemed to want. Eli and his friends had a blast and I would highly recommend both your company and Mark anytime. Please feel free to use me as a reference. I'm happy to spread the word about how wonderful it has been to work with you for both my boys' Bar Mitzvahs. Kudos to a job well done and thank Mark again for making this milestone so special."
-Susan Blum, Spinnaker Restaurant, March 21
"Last night was so much fun, it couldn't have been better. Mark and his crew outdid themselves. They really make the party. They are so enthusiastic, positive, engaging and really know how to keep the energy going. We woke up this morning just recalling all the awesome moments. And most importantly, Julia had the BEST time. She said there was nothing she would have changed. So a million thanks to you, Mark and his crew for hitting it out of the park. Several people asked us how we found you guys and you can be sure we'll be passing on your name to them.
Thanks again for all you did to make Julia's Bat Mitzvah so incredibly fun."
-Dina Berman, Stonetree Golf Club, February 7
"I just wanted to let you know that Rylen's Bat Mitzvah party was awesome and Mark and his crew were amazing!! Again!!! We will be calling D & D when the weddings, or any other big events come our way in the future.
My friend, Kim, got to experience D & D for the first time- she loved you guys and will be calling you tomorrow to see about booking her daughter's Bat Mitzvah party in April."
-Gwynne Karchem, Temple Rodef Sholom, January 31
"We had a fabulous time. Everything went great and everyone did a fabulous job. We were totally impressed how they moved people around the venue, (we had different rooms and people going to different locations), got everyone up and dancing and kept the festivities going. We have many compliments already from our guests.
Thanks again – and tell the team how much we enjoyed it. We are all still 'basking in the glow' of the party."
-Melissa Schoen, Lawrence Hall of Science, January 24
"Thank You! It was indeed an incredible party! Thanks for making it so amazing. Your team is outstanding — great personalities, fun and they know how to get the entire group out on the dance floor having fun."
-Jasmine Tarkoff, Orinda Country Club, January 3
"All was wonderful!!! Daniel made us all cry by leading an amazing and emotional service in the morning and then Mark, JD and the girls were wonderful, with such a great energy, and made us all dance and have a fantastic time! Daniel was super comfortable interacting with your team and enjoyed every minute of the party! Kudos to the 4 of them and to Elizabeth (did I mix the girls' names?) for running the photo booth with a big smile!!! We loved the D&D team outfit (Brazil!!!)! We got LOTS of praises for your team ("They entertained Brazilian style!" take it as a compliment :)) and of course we gave lots of referrals!
Everything was 110%! Please book them all for Julia's bat mitzvah! Not kidding!!!"
-Nayra Kos, Presidio Golden Gate Club, December 13
"Thank you guys so very much for a truly amazing evening.
From every aspect, your team helped us all build the greatest memories of a lifetime. So many people told us how much fun they had, how much they loved the entertainment and the photobooth, and everything else your team helped to create and facilitate. Words really can't share how much we appreciate your creativity, attention to detail, attentiveness, and the obvious care that went into planning and executing an amazing evening. Thank you guys, and please share a thanks to all on your team. We're really grateful we connected with you to make our celebration such a joyous success."
-Craig Gilden, Regale Winery, December 6
"Mark and his crew were amazing. Thank you for selecting him as our MC. Also, thank you for being so great to work with. The green screen was of course a big hit. You and your company lived up to expectations which is no small feat considering your outstanding reputation. Thank you again for making our simcha so memorable."
-Cyd Braker, The Cypress Hotel, October 25
"We are just now coming down from an awesome Bar Mitzvah as our last out of town guests left yesterday. Ethan's Bar Mitzvah was Epic – just like Mark said it would be. Mark and team did a fantastic job. Y'all are #1 in my book."
-Randi Drake, Winery SF, October 11
"Mark, JD, Ali and Shelby were consummate professionals. They did exactly what they were hired to do — keep the kids happy and entertained. Dave and I really appreciate Denon and Doyle. There's a reason you have this market cornered! Several kids came up to me and said it was the best party they'd ever been to.
Thank you for your attention to detail and for cultivating an organization that delivers a top notch product."
-Leslie Morris, Danville Community Center, September 6
"Addington was perfect! He followed our instructions to the letter and was everything we had hoped our DJ would be. In addition, he really went the extra mile with the uplights that really helped set the dance floor apart from the rest of the party. I can't recommend him highly enough.
Thanks for everything! You guys are the best.
…and more from the bride:
We had the time of our lives at the wedding and Addington was instrumental in making sure that everything went perfectly! He was incredible. We hardly had to think about anything after we filled out the planner, and on the big day, everything went off without a hitch. He struck the perfect balance with the music and emcee duties. We can't imagine a DJ doing a better job."-Blake and Katie Taylor, Lafayette, July 5
"I just want to say thanks for last night. The party was really fantastic, in no small part because of you and your team. As predicted this crowd had lots of energy but you kept them focused and organized. It was great! I just wish (kind of) that I had another kid to do another bar/bat mitzvah party for at some point."
-Jayne Greenberg, Presidio Log Cabin, May 17
"They did a fantastic job. We had a great time. Some adults were not as willing to dance, as I hoped. But the ones that were, were out their the whole time. Kids danced the whole time. Anyway it was memorable and great. Everybody saying what a great party it was."
-Jeanette Otus, Peninsula Temple Shalom, May 10
"Once again Mark and his gang were amazing! The party was a huge success and all 82 kids and 60 adults danced the night away!!!!"
-Melissa Assael, Renaissance Clupsport Hotel, March 8
"I can't even begin to describe what a REMARKABLE and MAGICAL night it was! Mark was FANTASTIC! It was all we hoped for, and more. Family and friends were so impressed. Mark and his crew were attentive to every aspect, from lights, to sound level, to structure, to getting everyone motivated and on the floor. Seriously the best night ever for us! Anna is hoping for a one year anniversary party… I told her she will have to wait two years until her sister's Bat Mitzvah 🙂 In fact, I am going to look for that date and see if Mark is available. I can't imagine having a party like that without him!"
-Estee Cohen, Sacramento Hyatt Regency, March 1
"Mark and his team were fantastic!!!!! It was a rockin dance party, just what I wanted. I'm not sure who had more fun the kids or the adults. Mark is stellar. Super professional and what was great is that I knew he was in control and could handle everything. All his prep work was organized and he never made me feel like anything was a problem. I also think he has really good command and timing of the party. He knows exactly how to build throughout the night to make a great party. His team was energetic and so friendly. Mason was new to me so that was fun to have a new DJ for the kids and he is super personable. Mark set the party up beautifully, it looked like a killer nightclub. He seemed to bring the right amount of giveaways and I loved some of the new stuff he brought. Set up and clean up went great. I'm not sure what to improve upon. I would have liked more songs where they lead the dancing but my son did not want that, ha! All my guests who had never been or seen one of your teams was blown away about how great Mark and the team were. I will post to yelp my review and will definelty be booking again in 2 years for my next one, agh!
-Allison Hogan, Lafayette Library, February 22
"Saturday was perfection! Mark and crew were/are awesome. They had amazing energy, got all the kids on the floor and were so engaged. I LOVED the fact that the motivators sat with the kids at lunch. They made them feel special and really connected. Blake rose to the occasion and totally owned his part of the party and was a great host. Not sure I will ever get the image of Blake on stage leading YMCA!!!! I think Mark did an inspiring job of bonding with Blake and making him feel so comfortable. I think we went out with our last Bar-Mitzvah with a huge BANG!!!! As usual, DnD ROCKS!!!! Mark ROCKS!!!!! And we are very happy customers!!!"
-Evan Levy, Crow Canyon Country Club, January 25
"Mark, we cannot thank you enough for making Eli's special day unforgettable, with a celebration for the ages! You, JD, Ally and Shelby were just incredible. Your team met and surpassed all of our expectations and dreams for Eli's big day. We received so many compliments afterward about the amazing party you led and provided for Eli. So many adult guests called, approached us, and wrote to say it was the most fun they'd had in years!! As for the kids, we think it was obvious that they especially had a blast. Eli's comment on the way home was, "Mom, I could never have dreamed for such an awesome party. That was the most fun I've ever had!!" As incredible as his words was the fact that our sweet-a-holic, who couldn't stop talking about his sundae bar and candy bar before the big day, did not even have a sundae OR candy because "I was too busy partying mom!!" We will always be incredibly grateful to you all."
-Ruth Serepca, College of San Mateo, January 18
"Mark and team were AMAZING! When a kid says "I don't want this party to be over" you know you have done your job. Kudos really to the whole team. Mark of course lead the charge with his instinct and experience in working with 13 year olds. The "motivators" were adorable and did exactly what they were supppored to do, motivate the group. I have nothing to suggest that could have been done better. It really was fantastic. Thanks again. It was such a pleasure working with you and your great team."
-Susan Blum, Sausalito Cruising Club, January 11
"Things went great with Saturday. Everyone had a blast, as usual. The kids and adults both."
-Denise Goldstein, Contemporary Jewish Museum, December 7
"Everything was really great! We loved the crew and Gabe definitely had The BEST time ever."
-Karen Katz, Claremont Resort, November 16
"We had such a great time! Your crew was fantabulous!!! That Mark – he is gooood. Everyone was dancing up a storm. The kids were totally entertained. When my hubby's montage music stopped working – your crew jumped right in and saved the day! Such a fun night – you guys are #WOW – thank you so much!!"
-Elisa Brown, Green Hills Country Club, October 26
"Everything was great! Good time was had by all. I'm not much of a poster. If I have time I'll try to do it. Mark and crew did a fantastic job."
-Monique Jasper, Orinda Residence, October 12
"Mark, and Crew- We had an absolute BLAST at Lauren's Bat Mitzvah! Thank you! I'm not sure if I ever left the dance floor!!?? Mark, you and your crew kept everyone engaged and on their feet the whole evening! Lauren was on CLOUD NINE the entire party! As with all events, it is now a memory…. can't wait to see the pictures of what I know was an absolutely fabulous party! 🙂 Thank you SO much for being such an important part in everyone's enjoyment!"
-Kelly Weinberg, Granite Bay Golf Club, October 5
"I can not even tell you how great Ed and Mark were. I was a nut case and Mark put me right to ease. He handled everything and made it so easy. Both of them helped out so much more than their jobs described. They felt like they were family. You have two very great guys working for you. I am planning on writing reviews on yelp and the knot will definitely write about how awesome you guys are. Thank you so much for making my day seamless!"
-Jennifer Lord, San Geronimo, October 4
"I thought I would beat you to the punch and tell you what an absolutely fabulous time we had with the D&D crew for Taylor's Bat Mitzvah on Saturday night! We received SO many compliments. Mark did a fabulous job. The crew followed suit. Everyone was friendly, positive, and pleasant. And the DJ really put some moves on the dance floor! We cannot thank you enough. D&D made our party a true event. Everyone's talking about what a great time they had. The green screen photo booth was a HIT as well."
-Jamie Mulkey, Granite Bay Golf Club, September 28
"We were beyond happy with Mark and Felipe! We were very confident going into our wedding day that everything was going to go great based on our conversations with Mark. Everything went as expected if not better! The music was perfect as were the announcements throughout. We heard from multiple guests that it was the best wedding they had ever attended and both Mark and Felipe played significant roles in making that happen. Michelle and I also really appreciated that Felipe came up to us and introduced himself as the photobooth attendant and made sure we went to take pictures in it before things got too crazy and we missed out. Had he not done that, there is a good chance we might not have taken any because of how quick the night went. I left a Yelp review for you guys yesterday and we will not hesitate to recommend Denon and Doyle to anyone who is looking for a DJ or photobooth. Many thanks for making our day so special and memorable!"
-Dan Herman, Kenyon Estates, September 27
"Let me just say that it was a great night! Mark and crew were great and real pros as we knew they would be. Everyone had a great time and the dancing seemed to flow seamlessly between the kids and adults at the party. We will definitely post reviews out there as well. Thanks again to Mark, you and the rest of the team."
-Rick Sasner, Marriott Hotel in Walnut Creek, September 21
"Off the charts, spectacular. What a night!! The crew was sensational and Mark was amazing. Just a fabulous time. Everyone remarked about how great an emcee he is. So much energy and an ability to keep to party moving. He is a real gem and I can't thank him enough for making it such a memorable event. I'll talk to you more about when I get a break. Again, THANK YOU for helping to make the event a night to remember."
-Rich Goldman, Lake Merced Golf & Country Club, July 20
"We had a fabulous time thanks in large part to Mark and his crew. My husband and I were just discussing what an awesome job the D&D team did. They were so fun and positive, played great music and kept the crowd's interest all night. We recognize that they had a particularly difficult assignment, as the temperature exceeded 100 degrees even at night. It must be hard to stay so upbeat with those oppressive temperatures!. This is the second time Mark has MC'd a party for us, and he was as warm, professional, and engaging as ever.
I could go on and on. In sum, though, the team really made our party successful!! Thank you Denon & Doyle and team Mark."
-Debra Lax, Round Hill Country Club, June 29
"We can't say enough about how great your team is. From start to finish, you have been professional, caring, and easy to work with. Plus, your team totally knows how to balance the needs of parents and teens (not to mention, grandparents), which I'm sure is no easy task.
Simply put, Mark and his crew were a joy to work with. And, if I had another event, I would call you in a heartbeat!
D&D was key to making our event spectacular. Everyone had a great time."
-Esther Saidman, Point Marina Vista, June 22
"It was an amazing, as always, but this time, even more so!!! Mark and the team bounced in with all their beautiful energy, relieving us of any worries. I am not sure I checked in at all with Mark once he arrived. We knew he had it, and he did not let us down! The motivators engaged beautifully with the kids and the choice of music was right on!!!!! From the bottom of our hearts we thank the whole D&D team!!!!!!"
-Jenny and Steve Jeffrey, Private Residence, June 15
"Yes – we all had an awesome time and Mark was amazing! Loved the whole team! Lots of our guests said it was the "best party ever!" Thanks so much. You are all the best at keeping a party moving and creating a good vibe so everyone wants to have fun and dance. Everything was perfect and Mark took our feedback about timing of the candle lighting which worked nicely. So thank you all!"
-Lauren Goldstein, Temple Isaiah, May 25
"Mark was amazing. It was such a fun party and Mark kept the kids engaged from the moment they walked in, starting with hoola hoop contests. He had everyone on the dance floor, went with the flow of the crowd and kept things on track. We were so pleased with everything. The motivators & DJ were great too. The props were awesome – plenty for everyone, it was great."
-Ingrid Tolson, Spinnaker Restaurant, May 4
"Everything went terrifically well last Saturday night at the Rosewood. Mark and his team were fabulous. The kids loved him! He really did a great job; the adults were able to enjoy themselves and the kids had a blast!"
-Leslie Caine, Rosewood Sand Hill Hotel, April 27
"Mark Addington was absolutely amazing!!! I couldn't have asked for a better dj. My guests loved him too and everyone had a blast. Mark put me at ease and was always there when I needed to ask questions or anything else I needed. I would highly recommend Mark to anyone looking for a fantastic dj. "
-Sandie Gavan, Oak Hill Park Community Center, March 23
"Yes, everything was great!!! As usual, Mark did a great job!
Mark – I am so sorry I left without say bye. The sites had to leave early and we bailed. Thanks again for joining us on Saturday night and being a big part of our party!!! It would not have been the same without you."
-Evan Levy (Beth Chaim), Blackhawk Country Club, March 9
"Mark and his crew were absolutely stupendous last night! Felt like more of our family was there with us! 😉 The kids were having so much of a blast that when ten came around they were all bummed. A fabulous evening all around! Thank you Mark for working so hard, and to your crew for engaging our guests and making certain EVERYBODY had a wonderful time!"
-Jodi Cook, Lafayette Veteran's Memorial Hall, February 9
"everything was wonderful! I can't even describe how well everything went. Mark and the entire crew exceeded our expectations."
-Lori Fletcher, Blackhawk Country Club, February 2
"You and your crew are great. Ev enjoyed you being at his Bar Mitzvah. LOVED when you got things going w/Ev and the "hey baby". For me that and the grand entrance were real highlights! The dancers were great and you know I think you are best DJ out there hands down. "
-April Glatt, Penninsula Temple Sholom, January 19
"The event was AMAZING. Mark was awesome, he really live up to his great reputation. We also loved JD, Mikaela and Dana, they were all incredibly engaging. Thanks so much"
-Jamie Kates, Peninsula Temple Sholom, December 8
"Just a quick note to thank you sooo much for the most amazing night!!!
EVERYONE is talking about Mark, Makala and the entire staff!!!
You guys WERE the party and I thank you so much for making Allie so happy!!!
Mark…you and your crew are the BOMB!!! Thank you again!!!"
-Debi Birger, Peninsula Golf & Country Club, November 3
"I spoke with Mark Addington yesterday. Our party was beyond wonderful! We loved everything you guys did! We are hearing from everyone that it was THE BEST BAR MITZVAH ever!!!!! Thank you all so much – you are all amazing!!!!
-Jan Arrick, Mill Valley Community Center, October 27
"Addington and his crew were their amazing and i mean amazing selves. How nice that I do not have to worry one bit when I know Addington is in charge. I adore him and all the crew. He was a perfect 10 all night long!"
-Elyse Vaysberg, Mullin's Bar & Grill, October 20
"Thank you for checking in about Talia's bat mitzvah event- it was an amazing success!! Mark and all of his "team" were great and had so much energy that so heavily contributed to that success."
-Christine Berlin, Private Residence, October 13
"Mark and his team did a fantastic job! He had the kids dancing until the very last moments of the evening and my daughter had the time of her life! Thank you all!"
-Lisa Fuchs, Peninsula Temple Sholom, September 29,2012
"Thanks again D & D for a wonderful job! Our event was a success due to the great job by Mark, Jeramy, Dana and Nicole! They did a fantastic job, the crowd loved it, the adults and kids all had fun."
-Julia Babka-Kurzrock, Congregation B'nai Tikvah, August 25
"Oh my goodness we had a great time!! And so did everyone else. We got many compliments on the DJ an MC and crew. Everyone on your crew was terrific. We especially loved Mark and my 8 year old son is in love with Mikaela!! She was teaching him some cool moves. Really everyone was wonderful and they all get an A ++. Thanks for everything."
-Cathy Begun, Round Hill Country Club, August 11
"The entertainment was perfect. Mark and his entire crew worked their butts off!! I don't know how they didn't pass out from the heat…Mark NEVER seemed bothered by the heat and continued to work hard the entire night to make the party a success for Ethan. He was challenged by some of the kids and encouraged them to participate in a meaningful way. Our friends and family who had never been to a function like this one, were BLOWN away by Mark and the entire crew. I loved that Mark took the initiative to dress for the occasion (in referee shirts) and truly embraced the spirit/theme of the entire party. Mark has the ability to make you feel like you're his only and most important customer (you all do, frankly). I really was hesitant to book with you guys because of the cost (significantly more than everyone else). However, the truth is…you get what you pay for.
I hope you remember our discussion about me being able to book your services for my younger son's Bar-Mitzvah. If so, I would like to get it in your books. Addison's Bar-Mitzvah will be April 5. He absolutely loved all the dancers, but has a special affinity for Mikaela. So, if she is still around then, I'd love to have her be part of Mark's team too.
The photo booth attendant seemed great. I honestly didn't spend too much time with him. However, the photo booth itself was truly the perfect addition to the party and I love all (but two-rotten kids) of the pictures! 🙂 I am so glad we did it and Ethan absolutely loved it.
I will recommend you guys to everyone I know and I am honestly impressed with Mark's (and all of the employees he brought with him) work ethic. I have planned many events (fundraising events) for cities and school districts and this was by far the easiest event I've planned because of your company and the catering company (Ovations was amazing to work with too). It was nice to be there and not feel like I had anything to worry about.
The last thing I want to gush about is Mark's comment to me during one of our meetings, that he can take anything I throw at him–last minute changes, etc. I can't even tell you how that put me at ease. I definitely had the confidence that if something came up the night of our party, that Mark would handle it with a smile. That is provided me the biggest sense of comfort, ever!!
So, please please please tell Mark and his crew how amazing we all thought they were (my whole family and ALL of our guests)! I do hope it will work out for us to have Mark again for Addison's Bar-Mitzvah, especially now that he has met him and knows what kind of crazy-fun kid he is!!
Thank you Dan. Thank you so much for providing the best entertainment possible. Ethan's party was amazing and we owe it to Mark and his crew!"
-Amy Miller, Alemeda County Fairgrounds, July 21
"I cannot thank you enough and especially Mark Addington. We had the 2nd party of the decade and guests could not decide which one was more fun. We so appreciate all of your expertise and help to make dreams come true. Your entire staff is truely gifted with talent, heart and sensitivity. Thanks again and I will contact you when my daughter has her wedding date secured in August 2013."
-Angela Arditti, Contra Costa Country Club, June 23
"Dan, it was a TREMENDOUS success – but I'm guessing you are used to hearing that! Brian, Jaclyn and Ashley were awesome supporting Mark. He is truly good at what he does. You can tell that he enjoys connecting with the kids and does it in a joyful, enthusiastic, and kind way. The kids (and parents) loved his work. Anything better? Hard to imagine. One of the 6 light bulbs wasn't working but I'm probably the only one who noticed and it wouldn't have made almost no difference."
-Steve Dostart, Atherton Residence, June 6
"Dan, [Mark and his team] were unbelievably amazing!!!! We love them!!!! I'm working in the City today but will do the review when I get home tonight. Thank you and please thank them again!!! I'd recommend them to anyone!!!"
-Melissa Leib, Renaissance Clubs
"Thanks for the making our Ilana's Bat Mitzvah so special. She and her friends had a blast. Mark and crew really know how to keep the crowd moving and the evening on schedule.
I'm exhausted today; I blame Mark."
-Carmela Greenberg, Fault Line Brewery, October 23
"Mark and his crew did a phenomenal job! Maddy got comments from her friends that it was the best party ever! And, more importantly, since our friends have been to a lot more parties in their lives than a bunch of 13 year olds, we got similar comments from our friends.
We loved Mark's style and were amazed that with about 25 minutes to go, when I was wondering if everyone would last to the end, he ramped it up and got everyone there – kids and adults – into a dancing frenzy. He does indeed have a big bag of tricks. Our photographer says he judges the success of a party by the number of dance pictures he gets. He says this party had the most dance pictures of any he has photographed."
-Justine Weinberg, Rheem Theater, October 22
"Just a quick message to say thank you to Addington, photo booth dancers, DJ, and 4 party motivators. Drew's party was a complete success!!! (He is the "it" man that he always wanted to be; and more so. He's got bonus "creds" now thanks to you guys!) The team was amazing – the best in the biz. They truly run a perfect party event. thanks so much, we look forward to —graduations and even weddings."
-Kim Johnson, Temple Emanu-El, October 15
"I don't remember if I responded to this inquiry or not but we were very happy with Mark. He did an excellent job of inspiring the kids to participate without dominating them. I also appreciate that he paid attention and played my list of dance songs for the adults. We had a great Bar Mitzvah!"
-Staci Boden, Mission Blue Center, September 10
"Everything was FABulous! Mark and his team were SO great! They kept the party moving the entire time…there was never an idle second. I got tons of really great feedback from so many guests. From the music, to the dancers/motivators to the give-aways…perfect in every aspect. I would absolutely use you again and highly recommend you to anyone looking for a good DJ. Also…the photo booth was a HUGE hit! It's a toss-up as to whether the adults or kids had more fun in there!! All in all (thanks to Mark and his team) a FANTASTIC day for my girls. Thank you so much!"
-Stacey Marchuk, San Ramon Golf Club, August 20
"Mark was AMAZING!!!! I loved his ethusiasm and energy! The songs were spot on and well balanced between young and old and the right volume! The rest of the crew were also wonderful. Just what we needed- some fun but not "in our face". Mark "heard " and responded! Thank you again and I will surely pass along the good word to all our friends!!!"
-Laura Landress, Seafood Peddler, August 20
"Mark and his crew were terrific on Saturday night. They had all of the kids engaged and happy, the volume was just right for the room (which made the adults were happy, too!) and Olivia was celebrated appropriately but not obnoxiously! We've already passed on D & D's (and Mark's) name to one of Olivia's friends (Sarah Weihl, Bat Mitzvah in October), so perhaps we'll be seeing Mark again soon. We appreciate all of your help."
-Steve Mitchell, San Francisco Zoo, August 13
"Mark Addington was the perfect DJ at our recent wedding! Addington, along with the rest of the Denon & Doyle staff are all super friendly, professional, and easy to work with. Addington is such a fun, upbeat guy, and always had a smile on his face.
We spoke on the phone a couple times in the weeks leading up to the wedding. He got a good feel for the music we requested and the overall feel of how we wanted the wedding to be played out. Our bridal party worked hard to leard a flash mob dance to the LMFAO's Party Rock Anthem, which Addington was able to work seamlessly into the reception. It was so much fun!!!
Addington also played a great mix of oldies-but-goodies party jams and newer songs, along with the ones we requested. The dance floor was never empty the entire night. Once dinner was over, our wedding flew by, partly because we were all having so much fun dancing! I barely got to eat the cake because I wanted to be on the dance floor! Our guests commented on how professional and fun Addington was that night. We did not want the night to end!
Thank you so much Addington! You made our wedding one to remember for a lifetime!"
-Lindsay O'Quinn, Byington Winery, July 30
"As always – it was awesome. Mark is absolutely terrific. He made the party and really worked and listened to Jason. Ally is the most fab dancer you have of course. Others were terrific as well."
-Sherrie Schwartz, Beth Chaim, July 16
"It was a wonderful party. I've been told "it's the best kid party I've ever been to." That's why Denise and I wanted your services, we knew it would be a success. The photo booth was a hit. Mark Addington was on his game that night. All the kids participated. Adults too. You will be highly recommended by me in the future!"
-Denise Ricker, Marin Country Club, July 9
"Matt and I wanted to let you know how fantastic you were at Eli's party Saturday night. Yes, another crowd of boys and they were hard to rein in but it was all fun and everyone had a fantastic time. You even got my 89 year old mother up on the dance floor boogying! To quote Matt "I didn't realize how hard a job it was." Many people commented on how great the girls were and my niece fell in love with Dylan. Too bad he is younger than her- he is awesome! It was very special to us that you were Russ' DJ and now Eli's. Thank you for making our party so special and wonderful."
-Ellen Kirmayer, Temple Isaiah, June 18
"The kids had a BLAST! They loved the activities and tatoos. Mark et al. did a fantastic job. I have already referred several people to D&D and specifically to Mark. The adults were very impressed with the excitement and fun without it being excessively loud or intrusive to adult conversation. Even the catering staff was out on the floor! I think we got a photo of that! It was awesome."
-MaryJane Levy, Congregation B'nai Tikvah, June 18
"Everything was great! I received many emails and comments from guests about the fun time they had at the party.
Mark was awesome, the music mix was perfect. Any Shayna and her friends loved it! Ally, Kelsey, Tyler, Ashley and Tyrone were great. The photo booth was a big hit and the girls were really good on the dance floor getting people involved.
We will recommend and use your services again. Thanks for help making the party memorable!"
-Amy & Matt Bronstein, San Mateo Marriott, May 14
"The Bat Mitzvah party was a huge success. Some people said it was the best party they had ever been to. Mark did a fantastic job getting both the kids and the adults out on the dance floor. By the end, everyone was dancing and we decided to extend our time because no one wanted the party to end! I wish we had more Bat Mitzvahs to do and am so sad it's over…"
-Alyson Aiello, Fairmont Hotel, March 26 2011
"First off, thanks to you and to Mark for filling in for us at the last minute. I was in a panic when the prior D.J. (the one the organization had traditionally used) suddenly sent me an email just a few months prior the event, letting me know he could not do the event and had "forgotten" to tell us he was retiring… Mark came through immediately and put everyone at ease. He was, as always, early to arrive and set up, dressed in matching attire and ready to go when we came in for dinner. The dance floor was packed all night and the music selections were perfect for our group of high school students, parents and grandparents. Many people commented on how amazing he was, how last year nobody danced and what a great vibe there was in the room this year. Thanks to Mark and all of you over there for being there for us and for an absolutely perfect evening. Please pass on our thanks again to Mark.
Mark made the party! Nothing but compliments to him and Denon and Doyle for stepping in last minute and doing a fantastic job, even down to the teal tie he wore to match our colors.
Thanks for making our event such a perfect evening…as my daughter said "the DJ made the party!" and that's a lot said from a senior in high school. Thank You."
Michelle Ferber & Kathy Benvenuto, National Charity League, Claremont Resort & Spa, March 20
"Thanks for checking in… Best party ever… Lindsey's Bat Mitzvah party was as good as it gets
Mark and crew were on fire and it will be talked about forever."
-Gwynne Karchem, Habor Point Racquet Club, January 29
"We love Mark and his crew, Dillin, Aly and Ally. They were all professional, fun, motivating, engaging and just terrific. They got all the kids and adults out on the dance floor and kept the kids busy and even pooped them out! (hard thing to do w/ 60 kids!) The day was magical for us and Mark and his crew only enhanced the experience and party for us."
-Tracy Gordon, Temple Isaiah, December 18
"The Celebration was awesome due to the incredible team of Mark, Dillin, Tyronne, Ally and Jannike. The numerous calls we have received echoed the same sentiment, the Denon & Doyle group were amazing!
We had 100+ kids, ranging in ages from 5 to college. Mark and his team never missed a beat and entertained them ALL and their parents!! I know you have received a few calls since and I assured them that no matter how close the events are, it promises to be a different mix. You all came through 3 years ago with Justin's Bar Mitzvah, and you did it again for Daniels. Trust me, once I have Andrew's date, you will be the first we call!!"
-Jenny Jeffrey, Dante Club, November 20
"We were thrilled with our experience with Mark and the gang. Drew's Bar Mitzvah is definitely being buzzed about–everyone loved it! When one of my relatives tells me, "This is the best Bar Mitzvah I've ever been to," then you know it's for real! Mark really followed Drew's wishes for music selection (and kept his positive, great energy!), which I appreciate. The party was all about Drew, and that was clear. Also, Body Bling went very well. In carpool this morning, the kids were still comparing their tattoos. :-)"
-Mindy Friedeberg, San Mateo Expo Center, November 13
"From the moment I met you I had know doubt that you would deliver such an awesome fun party….and you did. Thank you so much. Every kid was engaged in the fun the entire night.
You are a PRO."
-Ken Brickman, Lafayette Veteran's Memorial Hall, October 30
"I wanted to take a moment to express a heart felt thank you to Mark, Dillin, Ally and Melissa. Ryan had the time of his life last night. Myself and all of our guests had an amazing time, and we were so impressed by the level of energy and professionalism.
Mark really took the time to get to know Ryan and what it would take to have a successful event for him. Mark is very compasionate and truly impressive at what he does. Dillin had excellent timing with all of the music, and Ally and Melissa were perfectly tuned in to all the kids, making sure they had non-stop fun until the last song."
-Sheryl Cardiff, Renaissance Clubsport Hotel, October 16
"Speaking of this event: let me start by saying that this past weekend was the most enjoyable weekend of my life to date!!! Never have I had such fun, surrounded by such a fun group of friends and family. And I really believe that your team was a significant part of that "magic" as our many guests have alluded to. You guys are truly professional and REAL at the same time and I can't tell you how much I'd love to have another one of these! I'm a bit sad that I will only do this B'nai Mitzvah thing once. Now I'll just have to crash some other ones in the Bay Area or East Bay.
Seriously, you have no idea how glad we were to have chosen you guys for our celebration. You REALLY made it INCREDIBLE!!!"
-Betzi Grogin, Monterey Peninsula Country Club, October 2
"Hello. I cannot tell you how great the party was. I have to say Mark was incredible! He absolutely made the whole night a success. He was so in touch with what was going on and was so flexible it was amazing. The other motivators did an amazing job keeping the kids entertained and focused."
-Jeffrey Rosen, Jewish Community Center of San Francisco, September 25
"Mark and Taylor were great! They were at the restaurant early and were set up in no time. Mark was very nice and was on top of the schedule, checking with us and our coordinator and wedding party on the timing of various events. He stayed calm and pleasant through all the hectic-ness. He made sure he had the details of the various events and then worked independently on the side. If we needed him, he was right there, if we didn't he blended in to the background, all while playing exactly what we wanted and what kept the dance floor full. He needed very little instruction but was welcome to any and all suggestions we had for him.
He had a great sense of humor and knew exactly what type of songs we liked. He kept the dance floor full all night, except for the two songs I requested just for fun (Hot Stepper and Back Street Boys). He faded those songs out perfectly after I got a good taste of them. He also did a perfect job on our first dance by cutting the song short since I didn't want to dance for too long in front of everyone. We didn't have to worry about him all night because he knew exactly what he was doing. Taylor made sure everyone at the photobooth was having fun. Together, they are a great team! Both are very nice and fun people. These are the people you want at a party.
We've been to many weddings but Mark is the best DJ we've ever seen at any wedding. After talking to Mark and seeing how a good DJ is suppose to work, we started critiqueing other DJ's at other weddings. We notice how other DJ's play music just to play it and they don't notice what is going on at the dance floor. The dance floor would be empty but they would just keep playing the same songs. You really have to have some good experience to be able to DJ on the fly and be able to adapt to anything. Mark did exactly that and played the exact type of songs we and the dancers wanted. You guys really are the best DJ's we've seen. Great people too! Everyone at the office is also so nice and welcoming.
We are very relieved that the wedding is over but we kind of wished we had more time to enjoy Mark's D-Jaying that night and also spend more time talking/joking with him and Taylor. We will definitely keep you in mind for any future events that call for a DJ. We already recommended you to another friend for his holiday party!"
-Kathleen Wong, Legendary Palace Restaurant, September 18
"Because Mark and D&D came so highly recommended, I was confident that they would do a great job at our party. After my son and I met with Mark just prior to the party, I felt he really got a good sense of David's personality and likes/interests, so we came away from that meeting even more confident. Still, we were absolutely blown away by what am amazing job Mark, Dillon, Ally and Ashley did! They were so comfortable with our guests, and so personable, that they were easily able to pull the adults and kids into one enthusiastic group that flowed all night. Mark is so likable, upbeat, and quick with ideas, and our guests just loved him. I've seen other party motivators at Bar Mitzvahs in the past, and they always seemed secondary to the MC. Not so with Ashley and Ally. They were absolutely professional in dealing with David, my husband and I, and were engaged with all the guests. Dillon did a great job playing the music we requested, complimenting our songs with some he choose, and also took requests from the crowd. This team presented as a cohesive unit that worked together to deliver the most wonderful experience for our family and guests. I have truly never seen my son as happy and relaxed as he was that night! The adults and all of David's friends raved about the party for days. Thank you Mark, Dillon, Ally and Ashley – you were what made our party so fantastic!!"
-Debra Lax, Danville Community Center, August 21
"I can not even thank you and your company enought for everything you did to make Paris' day as special as it was.
Mark, Dillin, Maya and Ali were unbelievable and everyone at the party was amazed at how they controlled the seventy teens we had in the house. It was truly a tribute to the team.. We had such a wonderful time and everyone is still talking about the fun times. The photo booth was a big hit, everyone loved it, adults and kids and everyone loved Jake, especially the girls, and he was so professional.
My son's Bar Mitzvah is on June and I definitely want to have Mark and Dillin as the team in charge, if they are willing to go a second round with our crazy crowd. I can't even imagine trying to have a party without them now that I have seen them in action."
-Angela Arditti, Contra Costa Country Club, August 14
"Thank you for doing such a phenomenal job at Sarah's Bat Mitzvah. Your talent and hard work are truly a remarkable pairing. You kept the party going from the beginning all the way until the last song played. You have this innate talent at reading the crowd and making quick changes to keep the party at its peak. The adults came to me during evening sharing that "you were the best DJ they had ever seen". The teens said 'this was the best party they had ever been to.' The party had great energy and fun.. leaving wonderful memories that will last a lifetime. You were the best gift of the evening. Gee..how do you top that!"
-Laura Raney, Beth Chaim, July 31
"Mark did an amazing job, and so did the additional dancers. Everyone was fabulous! I was watching Mark towards the end of the evening, and I was so tired, I couldn't dance well, but he was up there dancing with the most incredible amount of energy. He is amazing!
Thank you to you all for doing such a wonderful job. The Green Screen was a big hit. The girls kept coming back over and over to get their pictures taken. It was a blast.
I would never think about doing any big party like that without you guys. I hope though, I don't have to plan one again for a long time, but when the next one comes, you are my guys."
-Christine Firstenberg, Lafayette Park Hotel, July 17
"My event was Perfect. Mark and his crew did a Fabulous job. Those who are not familiar with Denon and Doyle ,were in awe. My middle daughter is having some date in August 2012. IÕd like to have Mark again, he made my daughter the talk of the school/facebook!"
-Linda Shapirom Foster City Rec Center, June 26
"What can I say about Mark. He was the DJ at my daughter, Molly's Bat Mitzvah and was fabulous. He was the DJ at Molly's Hall graduation dance and was again fabulous. And again, for my son, Ethan's Bar Mitzvah, he was fabulous.
Mark makes each event special and different. Mark always develops fresh and new ideas and caters those ideas with each venue. Even during the event, Mark is quick to react and change if necessary.
Mark, thanks again for making Ethan's event so special."
-Sandy Baer, McGinnis Park Golf Center, May 30
"The evening was perfect in every way possible. Mark rocked as did all the dancers and helpers at photo booth. A true success and total delight! All the guests were pleased in every way. Thank you so much. Photos were a HUGE hit!!! How can I hold Oct 20,2012. I want Addington for Drew's bar mitzvah. Can you place a soft hold? I would not recommend anybody else. You run a perfect show!"
-Elyse Vaysberg, Peninsula Temple Sholom, May 22
"Mark, You were amazing. I heard nothing but raves about you. I spoke to both my girls, Jennifer and Amy and they said they didnÕt know how you could possibly go to another event. You were ringing wet. I also spoke to my lighting guy Mike, and he said you worked your bumm off. I also spoke to both Sarah, who LOVED EVERY MINUTE, and Leslie, the Mom, who said it was great. Thank-you for doing such a fabulous job. You are the ÒBOMBÓ"
-Joannie Liss, Rosewood Sand Hotel, May 22
"There is absolutely NOTHING they could or should have done differently. The kids had a blast. They didn't stop for a moment. The adults felt so comfortable and at ease that they joined the kids at the dance floor. My mom, who has not danced for 10 years in a self imposed mourning, couldn't resist either, and, I'm forever thankful to Mark for that, SHE DANCED!!! Mark, Dillin, Ali and Ally were completely in sync with each other and knew exactly what to do. We all loved them all!! I even got inspired to celebrate my 50th birthday 3 years from now, with Mark leading the fun!! I'm sending you the link for the pictures so that you can see for yourself!!
Dan, thank you soooooooo much for everything. You guys made Daphne's party memorable!! She came to me in the middle of it all, gave me a hug and said: "Thank you mom, it's so much more then I ever dreamed of!" So, I guess that says it all."
-Diana Nhuch, Ondine, April 10
"Only have one question: what is the word for 'BEYOND AWESOME'? Because that is how I would describe Mark and his crew. I told Mark several weeks ago, that there was no pressure, but that he was THE most important part of the whole party and that I felt the success or failure of the party would solely rest with him. The results were obvious at the party (kids didn't want to leave the dance floor to go eat, kids didn't want to leave the dance floor when the adult music came on, no kids got in any trouble, all of the kids were dancing!) Michael had the night of his life- which is exactly what I wanted for him! Mark is a total SuperStar!!! Thank you, thank you, thank you!"
-Karen Gould, Fort Mason, March 27
"WOW! WOW! WOW! I must say, people can not stop raving about our wedding. It was absolutely amazing! Mark and I had met a few times before to run through the music. Our ceremony music was very classic, very original, something new. There was one part of the song that I reaaalllllyyyyy wanted to make my appearance for and guess what…. As I get to the top of the staircase, I hit it. I glance over to Mark, smile, and he gave me the thumbs up! We made it!!!! There were more people at our wedding that said they literally "felt like they were in a movie." Without the help from Mark, that wouldn't have been the case. I also loved how Mark had asked me to make a song list for him – he did not stray! It was amazing! The perfect mix of music and the perfect songs. A friend of mine had told me that she "has never seen an entire wedding on the dance floor at the same time." It was magical! Mark, Thank You. Thank you so very much for making the wedding as fabulous as it was. Music makes all the difference. I love how you played the perfect tunes and you played them loudly! I also want to thank you for staying a little longer than you initially thought you would stay. You're a trooper because no one was ready to go yet! So, I thank you for keeping the party going! :)"
-Yasmina Kipa, Blackhawk Auto Museum, March 20
"OUR EVENT WAS AMAZING AND IT WAS ALL THANKS TO MARK AND HIS CREW! !!!!!!!!!!!!!! We feel so fortunate to have made at least one great decision and it was hands down the best investment. Conor had the time of his life, they did everything he wanted. Actually, now that i think about it, we should probably be mad at you because conor has been REALLY depressed that it's over!! here are some specifics:
– beverly and katie were so sweet, fun, great dancers, so energetic and positive. Got EVERYONE going.
– they played EVERY song conor asked for
– 60 kids never left the dance floor. it was amazing.
– After rick and i made our toast to the guests, brahm (our 6 year old) asked for the mike and made his own toast, "thank you mom and dad for hiring a super, super nice dj" Mark and the crowd died, it was so cute and so dead on!!!
– mark went above and beyond for us — the vets hall made him take the leftover food home with him because the caterer forgot to give it to us. He drove it to us the next morning– he is superhuman.
– mark also saved us with our video — the most demanding thing we had to do and we just couldn't make it behave. he figured out how to solve our problems with it and that alone nearly brought me to tears.
As you know, Dan, this is a highly emotional event that carries really high stakes because it's so important. I am grateful beyond words. If we had our dates yet for our next two kids, we would be booking now!!"
-Rick & Casey Sasner, Lafayette Veteran's Hall, March 13
"Working with Denon and Doyle was an absolute pleasure! As you know our goal was to have a rockin party with all the kids dancing in the middle of the day. Mark accomplished this and then some!! The kids were dancing from start to finish and having a fantastic time. Mark's idea of the bubble wrap was a huge hit! We loved how focused Mark was on fulfilling our vision for the party. He brings tremendous energy. That energy together with the enthusiasm of the party motivators made for a wonderful event."
-Audrey Fox, Temple Emnuel, February 27
"Dan, I'm not sure there's much I can say that hasn't been said a thousand times over. Mark and his crew – Tyler, Ally and Mel – – we absolutely superb! From the initial meeting with Mark, we knew we were in great hands. He knew every single question to ask, every detail to cover and made us feel completely at ease. Ally and Mel were SO fabulous with the kids (and with the adults!) – – from playing with my 8-year old son to keeping 13-year olds completely entertained and engaged. And how Mark managed to keep all 80 kids entertained while the adults ate is beyond me! My 71 year-old father commented that he didn't even hear the kids at all, even though we were in the same room. I did not have to worry about one single thing, thanks entirely to Mark. My son's Bar Mitzvah party was absolutely perfect!
Thank you, thank you, thank you!"
-Karen Herz, Seafood Peddler, February 27
"Thank you! Thank you! Thank you! To Mark and his crew!! Tyler's Bar Mitzvah is being called the "Party of the year" in Blackhawk, and that is HUGE! You guys did an awesome job all night long. Mark did a great job fitting in my dad's performance and Tyler's solo on the guitar, as well as fitting everything else in. I had so much fun I forgot to talk to some of my guests!! They finally figured out if they wanted to talk to me they had to dance with me. The kids LOVED the blacklight show, and are all talking about it at school!! It was a big hit. In fact everything they did all night was a big hit. The kids also loved all the giveaways! We ALL loved the dance cubes. You should get a third one. We want Mark an his exact same crew to come back for Ben's. Thanks D&D. You guys are the BOMB!"
-Elyse Resnick, Blackhawk Country Club, February 20
"We just left a party with Mark Addington as DJ. What a great time! Mark paid attention to what we wanted- playlist, atmosphere, and was very focused on making our event special and unique to us. There are loads of Bar and Bat Mitzvah parties, and it's hard to please everyone. Sometimes the grownups come home hoarse from shouting their conversations- not this time. But there was still an active dance floor too. We have really enjoyed our party, and we'd highly recommend Mark Addington and the motivators who accompanied him this evening. They were all lots of fun without being pushy, and they let the party flow without forcing kids onto the dance floor. Good job!"
-A guest at Tech Museum, February 6
"Mark Addington and his team were outstanding!!!!! I can't thank them enough. They made the party fun for everyone (kids, parents, grandparents). It's been 3 weeks since the bar mitzvah, and I still have guests coming up to me or my son and complimenting Mark, the dancers Ally and Maya, and dj Dillin. Mark and his team kept the party going the whole night with fun games, activities, and the right music. It was also great to have booked the photo bar with you because we had 2 more dancers whenever the photo bar was not busy. The guests appreciated having the dancers teach the dances. It was more inviting for the guests to join the dance floor when they could follow along. The dance floor was never empty. The success of the party goes to Mark and the whole team.
My son Matt was even so awestruck by the party. He couldn't stop talking about the party when it ended. He told me that he never imagined that the party could be so much fun. Mark and the crew way exceeded his expectations. Many, many thanks to Mark,Dillin, Ally, Maya, and our 2 photographers. I will always recommend Denon and Doyle."
-Rachel Kolm, The Cypress Hotel, January 16
"Our party was a rager and the buzz around town is that it was the best party EVER! If you hear a rumour that grown-ups were dancing on the chairs,It's true…. We have Mark and his amazing crew to thank for making our evening so special fun and memorable. He got the kids and adults totally fired up and it was non-stop from start to finish. He was above and beyond sensational… I am sad that our event is over and I wish I had another kid coming up through the ranks.[Stan would shoot me] Thanks so much for everything. We love Denon and Doyle."
-Bambi Feinberg, Dominic's at Poplar Creek, January 9
"Ariela's party was outstanding. Mark and his crew were excellent. Several guests commented that they had never seen anyone as talented as Mark. Everyone had a great time."
-Amy & Bernie Burk, Mill Valley Outdoor Art Club, November 7
"The wedding was fantastic and Mark was a huge part of that. He exceeded our expectations and really knew how to read the crowd (something that we were very worried about). He was very professional, but also looked like he was enjoying himself (which to us was awesome!). We changed a few things at the very last minute and he was able to roll with the punches with ease. We canÕt thank you guys enough for making the dancing at the reception such a blast!"
-Kendra Yates, Carneros Inn, October 12
"Joanie's bat mitzvah party was fantastic. I could not be more pleased with Mark & the crew – they are all GREAT at their jobs. Everything we discussed in advance was done just perfectly, plus Mark helped get folks outdoors for the havdallah service 45 minutes in. Obviously, the kids and everyone else had a ball. Many of Joanie's friends told her it was the best party they had ever attended. Many of the grownups told me and my mother the same. A+!"
-Susan Shalit, Stern Grove Club House, October 3
"Thank you Mark and the team for making Gabe's Bar Mitzvah a rockin' good time. Mark, it is always too much fun working together! Thank you for always making me look good."
-Vickie Elges, Blackhawk Auto Museaum, August 8
"it's all about Mark Addington! We were totally thrilled and happy w/ his amazing job on Saturday for Samara's Bat Mitzvah. Not only were we thrilled, but Samara was over the moon and many of our friends have been commenting on how wonderful the DJ was."
-Jennifer Dash, Embassy Suites, August 1
"You guys were PERFECT! Mark A. and his team could not have done a better job at Jake's event. They balanced the "adult" and "kids" music perfectly, they engaged the older teens and young 20's set at the same time, and created the perfect party for all!
Every guest (young and old) had a wonderful time.
I also wanted to personally thank you for sending some extra lights to illuminate the perimeters of the room. It made a huge difference. I am sure that Mark will share with you I went to great efforts to install light up cocktail tables for the kids so that the PTS stage area would have some "life" to it, and just having your extra lights around the rest of the room really made a difference. I'll send you some photos when I get them.
Your team was SOOOO professional from beginning to end, and I can't thank you enough!"
-Pamala David, Peninsula Temple Sholom, June 6
"Needless to say it was a day to remember. Mark and his crew did a phenomenal job as always. Everybody had a great time, and we couldn't be happier.
Please pass on my appreciation to Mark and his entire crew, and thank you for your kind words regarding my family. I really appreciate it.."
-Steven Brandel, Crow Canyon Country Club, June 6
"I welcome the opportunity to praise D&D for their performance at my daughter Shayla's Bat Mitzvah this past Saturday. I was fortunate enough to once again have Mark Addington as our MC. I had Mark for all three of my daughter's Bat Mitzvah's and my guests could not believe what a fantastic job he did. The motivational dancers were also great at getting reluctant guests on to the dance floor. I recently received our video of the event and noted that the audience were virtually dancing all evening."
-Maureen Goldist, Round Hill Country Club, May 16
"I can't express how great the party was and how much of it I owe to Mark and crew They kept everyone, young and old, entertained and active from start to finish. They also kept us on time and the party moving. They were always easy to work with, professional and a lot of fun. Thank you for all of the help in making the party a highlight of a wonderful weekend and a special evening for Sarah, and her friends, for all of the hard work that she put into her Bat Mitzvah.
Bryan, Sarah's brother, is already looking forward to his Bar Mitzvah in three years and so are we!
Please thank Mark, Patricia, Katie, Tyler and TJ for all of their hard work.
Thank you for making the planning so easy!"
-Ellyn McCaffrey, Embassy Suites San Rafael, April 4
"Words really can't describe the experience that Marky Mark and his crew gave Sabrina, her friends, and family this past Sat. From the "get go" I felt that we were in the best hands. Any questions Sabrina Or I had were answered. Mark and his crew worked their butts of (literally I think). Denon & Doyle promised things and then OVER delivered. Mark superceded our Expectations (and believe me they were high). The kids were crazy for you guys!! All of the give aways were unique and even the adults were impressed. Life jackets w/ life savors. Genius! Anyway… I'm officially giving Mark the heads up for my daughter Ilana's bat mitzvah in two years! Hey Dan …. If Mark isn't a partner in this Co. he should be because you can tell He loves what he does AND he does it like an owner would. You better keep him happy!"
-Christine Parness, Peninsula Temple Sholom, March 28
"I just wanted to let you know what great feedback we have gotten about Jacqueline's party. Once again Mark Addington and all the Denon & Doyle staff were outstanding. As you know, this was the second time we hired Mark to DJ a party. Mark has been consistently professional, organized, and enthusiastic. The energy that he brings to a party is contagious! A big thank you from the entire Monetta family."
-Lisa Monetta, Sir Francis Drake, March 14
"Jordyn's Bat-Mitzvah celebration was fantastic! Mark is an amazing MC! He is also a friend of the family and community. Between, Mark, Solomon, Hailey and Patricia, the party was energized, fun, celebratory and an overall blast! Jordyn was made to feel very special amongst her guests. The party was geared towards Jordyn and her firends. However, we asked Mark to make this a family friendly party and we wanted all our guests to feel welcome to participate in all the dance floor activites. Mission Accomplished! Fun was had by all."
-Evan Levy, Crow Canyon Country Club, February 28
"The evening went very well. Even the Bar Mitzvah boy was impressed – and it is hard to impress a 13 year old boy! He commented that the music was great (thanks, Mark) and that the facilitators did a good job – they weren't too intrusive but kept the party going. Overall, I don't expect we would have done anything differently and we'll be calling again in two years when we get the date for our daughter's Bat Mitzvah. Thanks again for a great evening,"
-Susan Cohen, Presidio Log Cabin, February 28
"It was just perfect. Mark and team made my son feel like the coolest bar mitzvah kid on the planet! We are still enjoying the "good vibe".
-Susan Preneta, Congregation Beth El, February 7
"Mark Addington did a fantastic job. We only have good things to say about him and the presentation he put on. We will never forget the night."
-Rachel Gridley, Bridges Golf Club, January 25
"Hi – I have to say this was the best party I have ever been at – thanks so much to Mark and team for making this happen. I have had numerous compliments on the energy and enthusiasm of the party – I know that Mark was a critical and crucial part of that. Tyler, Mel and Nicole were outstanding as well. The photo booth rocked and the music was outstanding.
I can't thank your team enough for making this the most special party I have ever been to. (I would say I am biased but that has been the consistent feedback)
The only problem that I hold Mark accountable for, is that because it was so fabulous and the music was so amazing and fun, I danced for 4 hours straight. Due to that, I am incredibly sore and could barely get down my stairs.
You all rock and as soon as I get my son Jason's date – you will be the first people I call!!!"
-Sherrie Schwartz, Blackhawk Country Club, January 17
"A million thanks to Mark and the team for an outstanding event this Saturday. I was very impressed and we had a wonderful time!!"
-Jennifer Faria, Hillier Aviation Museum, January 10
"All I can say is that Jeffrey's Bar Mitzvah exceeded my expectation because of Denon and Doyle. Mark was amazing. He really worked hard at understanding Jeffrey and making the party about him. Rachel was amazing, getting everyone dancing and even dancing with our drunk Nanny. Tyler had the music going and put together a great mix for all our guests.
I will not hesitate to recommend you to all our friends. I look forward to having you at another event in the future. Again, thanks to Mark, Tyler and Rachel for loving their job. It showed!"
-Shari Liebman, Wente Vineyards, December 27
"The party was fabulous. Your set up is just so good – lights, trellis and cubes transformed a regular old ballroom to a swanky club. All companies should be rollin like that! Mark was fabulous – hittin the music just right and keeping the crowd dancin. Mark is always so gracious and professional – a true pleasure to work with."
-Lori Colvin, Diablo Country Club, December 12
"I just wanted to Thank you once again for adding a nice flavor to our holiday event last night. It was nice having music during the event and the dancing afterwards. Everyone had a great time and I have had nothing but very positive feedback."
-Shirley Basch, Blackhawk Auto Museum, December 11
"I cannot express in writing what an outstanding, phenomenal job Mark and his team did. It was incredible how he kept over 100 kids plus adults going ALL NIGHT LONG. He truly puts his heart and soul into what he does. The party was better then my children or I could have ever dreamed possible and we owe it all to Mark and his team. I have already had calls asking who my MC was and where I got the Vip passes.
I am grateful to Mark for making our celebration such a memorable event. You asked what you could have done better. – absolutely nothing and I am a very critical critic!!"
-Ellen Koka, San Ramon Community Center, November 15
"The party was great. Mark did a great job along with everyone else. The kids had a fantastic time! It was non-stop which was great. I heard from many parents that their kids told them they had the best time. Thanks for everything, everyone was great!"
-Stacie Stone, Orinda Country Club, November 8
"I wanted to let you know that working with Mark was amazing. As you know I have been to several Denon & Doyle parties and I specifically requested Mark. He didn't let me down. In fact, he exceeded my expectations. We had a very difficult party. There were 71 adults (20 of whom were over 75), we had 14 teenagers between 14 and 18, and 5 kids four and under. Yes I know that sounds like we don't know how to throw a party, but that's who RSVPed.
Anyway, Mark, Tyler and Recce were fabulous. They got everyone involved, even 10 teen age boys. Everyone had a fabulous time. They were creative in engaging the crowd. We loved the volleyball game and the bubble popping (aka, bubble rap). Other people who have used Denon and Doyle told me they were amazed at how everything came together. I know that at least two of them went up and told Mark what a great job they did. Mark is phenomenal. We will request him any time we use Denon & Doyle in the future."
-Mark Kogan, Temple Isaiah, October 25
"I can't say enough about Mark and Tyler. It was the second time we had them DJ for a bat mitzvah party, having loved them so much the first time we basically planned our Bat Mitzvah around their availability! They are so exuberant and fun, and both have a great feel for the kids and what appeals to them, sensing when to keep a low profile and when to jump in and stir it up. Your whole operation is very professional and a pleasure to deal with on every level. I would recommend you in a heartbeat for anyone's party- if something comes up to have you back sooner, we will- otherwise tell Mark and Tyler they can't leave for about 10 more years so they can come back to DJ our daughters weddings!"
-Jennie Oppenheimer, Private Residence, October 18
"The party was fantastic. Mark and his team had this group pegged and kept them dancing and happy from the moment they stepped into the ballroom until the moment everyone floated home exhausted. I truly enjoyed every meeting and conversation I had with Mark. He is very professional and personable.
We also had a last minute venue change which Mark accommodated seamlessly. We could not have been more pleased. With two more daughters coming up through the pipeline, we look forward to working with Denon & Doyle again in the near future. We also look forward to dancing this weekend at the Albert's bar mitzvah."
– Julie Arnheim, Crowne Plaza Cabana, October 4
"They were great. All the kids (2-85) had fun. Mark was very helpful with the video. He kept them so well entertained I forgot the kids were even there which is a good thing."
– Rona Reynolds, Oakhurst Country Club, September 27
"You guys were amazing, but I knew that you would be. Thanks so much for everything! My daughter had a wonderful evening, a night that she will always remember."
– Tammy Rochman, Northridge Country Club, September 20
"Everyone agreed that Mark did an absolutely perfect job!!!! He played all the best music and in the perfect mix. He was personable, professional, and helped the wedding run very smoothly. We would recommend Mark to anyone! He was an awesome DJ and a great guy!"
– Lizz & Steve, Brazilian Room, August 23
"The celebration was a huge success. Mark and his team engaged the kids from the second they walked out the door from the service to the party. The music was playing, the day was magnificent, the setting was beautiful. Mark, Tyler and Hailey kept those kids in big fun mode constantly. They had 35 kids playing games, dancing, and having a ball and it looked effortless. The kids were beaming! The giveaways were a big success. The games were creative and very well received. Your team was energetic, fun, professional, polite and right on target with the audience. Despite being an outdoor afternoon event there was a lot of dancing and celebrating. My Bat Mitzvah, Haley, said, ÒIt was a perfect balance of games and dancing. Nobody ever got bored. Everybody felt ok jumping into the fun. They did a really great job.Ó I have to admit, I was hesitant to invest the sum in a team of 3 to entertain our guests but it was worth every penny. Denon and Doyle made the party. I"ve already had 2 of our guests ask for your contact infoÉone for a Bar Mitzvah and the other for a wedding. Thanks for everything Dan. You must be very proud of your team and your organization."
– Bambi Buckles, Inn Marin, August 16
"Mark was fantastic last night at the Schubiner Bar Mitzvah event.!!!! He really rocked the Coyote Point Yacht Club!!!!"
– Adrienne Schubiner, Coyote Point Yacht Club, August 9
"EVERYTHING WAS WONDERFUL!!!!!!!!!!!!!!!!!!!! We could not have asked for a better djay and motivators, great music, great set-up/lighting, and most of all, a level of professionalism that was stellar from the initial meeting to this follow-up email today! Thank you, too, for your patience with my father-in-law! Your kindness made him come away from the event not remembering his "requests" (aka "kvetching") but rather, how much fun his grandson had on his special evening. When asked, I will always give Denon & Doyle the highest recommendation!"
– Jacquie Spielberg, Marin Country Club, July 19
"Our party was fantastic. My information is all secondhand, as the parents of the attending students didn't stay, but based on everything I heard from the kids and from the chaperones, it was amazing. The DJ was great, and all of the add ons (photo booth, lighting, etc.) were totally worth it. I also really appreciated that Chris sent me a link to the photos. We made CDs for several of the parents and they were happy to have that as a keepsake. This is the third time I have personally used your company, and I have recommended you several times to friends, and in all cases I have had a great experience."
– Rebecca Sarokin, Hall Middle School, June 13
"As for Jake's Bar Mitzvah – It was SO wonderful and went so well in every way. Mark is an absolute doll – easy to talk to, very patient and understanding, absolutely loves the kids and they him and he gets them going and controls them at the same time. His DJ and the gals were SO great as well. They all worked together and seamlessly took control of the party and ran with it. Honestly, I couldn't have asked for anything more – they were enthused and polite. They were mindful and neat! They were total professionals with great spirit and care. I recommend them (especially Mark) to anyone who asks or if I hear someone talk about upcoming events!
Many thanks to you, Mark and his amazing team!"
– Karen Rice, Beth Chaim, June 7
"Everything was GREAT. Got rave reviews about Mark and the motivators. As I get the further skinny from family/friends will let you know. Both as a compliment to Mark and company, and of course my kids and their friends – I had no worry about the kids. They were constantly on the dance floor. So I could enjoy them knowing all were trouble-free and I could enjoy the party.
The event was really fun. I'm getting my dancing shoes ready."
– Cyndi Feilman, Round Hill Country Club, May 31
"It was fabulous, your team was great! We were beyond happy."
– Jan Reicher, Glas Kat, May 25
"The evening was FABULOUS! Mark and gang were at the top of their game. Great entertainment………"
– Andrea Seminer, Sun City Roseville, May 24
"It was perfect! Mark, Nicole and Andrew were fantastic. The party was great…exactly as we had hoped. Thank you so much for making our event worry free!"
– Susan Lindell Radke, Temple Isaiah, May 17
"It was a fantastic event…. your group was perfect! Timing went great…. everyone had a wonderful time. Mark was in complete entertaining control and the kids and grown-ups loved him as well as the dancers! I would hire them again in a second!"
– Andi Thompson, Spinnaker Restaurant, May 3
"As usual, Mark was fantastic! The kids and the adults had an incredible time. My daughter was beaming. It was definitely her day. She was so incredible at her ceremony, that we had everyone coming up to us afterwards. Not including the guests we had invited. Her day only got better with her party. Watching her face light up all night was what we wanted to see.
I also want to let you both know how much we appreciate that the music wasn't blasting loud. I already had a couple of friends email me how much more enjoyed this party than so many others simply because they could actually engage in conversations. One person specifically mentioned another Bar Mitzvah party they had been to recently that a different DJ had done that was made much less enjoyable because of the music volume and choice. Although the parties are supposed to be "for the kids," when the adults are having fun, too, and enjoying the evening, everyone wins. We've had two events with you guys, with Mark, and they've been absolutely incredible. We will definitely keep you in mind for other events.
Thank you for making our daughter's night the best ever! You're always a joy to work with!"
– Jill Jacobson, Contra Costa Country Club, April 12
"Mark and company made a wonderful event for our family and friends. With charm and panache Mark kept the pace flowing with waves of spirited highs. The place rocked all night long. Mark was easy to work with and accommodated and even supported all our new ideas. He helped with all the arrangements and checked back in to follow up on things. You guys were everything we had hoped you would be and maybe a little more. Thank you so much. It has been a pleasure working with you. I would recommend you in an instant."
– Nancy & Fred Sturm, Peninsula Temple Sholom, April 5
"I have wanted to write this letter ever since Matthew's Bar Mitzvah two months ago. But once the big event was over, we went running full force into the last part of the school year. Now that I have the time, I just have to tell you how fabulous Denon and Doyle is! Working with your company was a pleasure from day one. Having seen your DJs at many events over the past three years, we knew we wanted to use you for our son's Bar Mitzvah. Dan was wonderful on the phone when I booked our date; I felt we were in great hands right away. With the day was approaching, Mark Addington and I arranged a date to meet and go over all our expectations. Matthew, my husband and I were put at ease the minute we met Mark. There was an instant comfort level in the room. Mark listened to all of our wants and knew we wanted a very active, fun party where everyone participated. We had a large crowd of adults coming and we wanted them to be involved with the kids, as well. Mark was so enthusiastic and responsive to our son that Matthew could not stop talking about his upcoming "Big Day." We were especially fortunate that night that Dan came as well, because he was training someone. So, we had 2 amazing DJs. With a party of 140 people, Denon and Doyle kept everyone moving the entire night. Adults and kids alike had a ball. All Alan and I wanted was for Matthew to have the time of his lifeÑif all the guests did, too, that was an extra bonus. Well, everyone did!!! We had so many of our friends and relatives comment that evening, and over the next two months, how amazing that party was and how incredible our DJ was. In fact, my sister in-law, who's already had 3 affairs of her own, commented to me a couple of days ago again that she had such a wonderful time at Matthew's party. She was so impressed at how involved and well-behaved the kids were. They behaved because they were busy dancing and playing new, exciting, creative gamesÑwhich kept their attention all evening. Just last night we were watching the DVD of Matthew's Bar Mitzvah, and we were reminded of how fabulous you were. Matthew was watching and could not stop talking throughout the entire DVD. There were games that I had missed, because I was visiting with guests, and I was hysterical watching them. Matthew kept going on and on about the activities as if the event had been the night before. He was beamingÑjust like he was on the night of his Bar Mitzvah party. Truly, I can't thank you and your staff enough for making that night one our son will always remember and treasure. While we've made past referrals to D & D based on seeing you at other events, you can be sure future referrals will be that much more enthusiastic given our personal experience."
– Jill Jacobson, Contra Costa Country Club, April 2
"First of all, our day started off incredibly with Andy and Molly's B'nei Mitzvah. They were amazing and brought so much energy and enthusiasm to a very meaningful ceremony. Their energy and excitement carried on to the evening.
What can I say!!! YOU GUYS ROCKED THE HOUSE!!! I got there around 5ish to help set up my part and everything was completely underway with your crew. Your staff was sooo incredibly nice and polite and seemed to be particularly excited because most of them knew my kids already from previous Bar/Bat Mitzvah parties. My daughter, Molly, came with me and was especially thrilled because two of the female dancers were Jewish and had gone thru Bat Mitzvah's themselves and could relate to her. That made a huge connection with Molly!
We fell in love with Mark the second we met him at your office to prep for the party. His energy is just so addicting and he has such an incredible positive personality that you can't help but walk feeling great. We spoke a few times prior to the party and I mentioned my concern about kids possibly crashing as well as the potential for mean girl stuff. He told me not to worry – that he'll take care of everything. Fortunately, there were no problems, but I didn't worry either because I had 150% faith and confidence in Mark and his crew."
– Ilene Zeiger, Faz Restaurant, March 22
"We had a great event on Saturday night. As always, Mark did an amazing job in all respects; the music selection was perfect, as well as the hosting by Mark. Nicole was a very good addition. Overall 1St rate. We will definitely use you and Mark again."
– Jon Stern, Mill Valley Community Center, March 15
"The party Saturday night could not have been better, everyone (from the kids to our adult friends to our relatives old and young) thought it was the best party they have ever attended. No one can stop talking about how wonderful it was. And a large part of that was Mark Addington and his crew. They were fabulous! Mark met with me and my son for a long time (it was clearly more than an hour) several weeks ago and asked all kinds of questions about what we wanted in the party. We knew we wanted lots of games and activities because this was the first Bar Mitzvah for most of the kids ever attended and Mark came up with the perfect activities to keep everyone happy. He created the perfect party for all our guests. Thank you! Thank you! Thank you! I will definitely recommend Denon and Doyle to everyone I know!"
– Bonnie Ross, 1 Fort Mason, March 1
"Thank you all so much for helping make the happiest event of our lives that much better. It was utterly amazing and the community is still buzzing from excitement. Everyone had a fantastic time! Mark was great. He really "got" us and honored our set list which was hugely important to us. Additionally, all of his additions to the set list were completely appropriate and in keeping with the mood we wanted to create. Thank him for us, please. He's a lovely guy. Tyrone, Jocelyn, Patricia and Dillin were all terrific too. Kudos to Denon & Doyle for having such an outstanding staff."
– Karen Maycick, Jewish Community Center of SF, February 9
"What can I say it was as always incredible. We couldn't keep them off the dance floor and as usual had to push up the end time. Addington was a superstar from beginning to end and seemed to have a good time doing it. I can't thank you all enough for helping each year to make our holiday party something really special."
– Jennifer Andrews, Harvest Inn, January 30
"Thank you and your team! We had a wonderful time and received numerous compliments from our guests specifically praising the job that Mark and his group did. Paul and I feel this was a party comparable to our wedding party as it brought so much joy to so many – people didn't want the party to end, a true sign of a great party organizer. After the evening, one of the party guests was so impressed, he wants Mark to do his son's future bar mitzvah party. The photo bar was also a bit hit. I originally thought it would be blast just for the kids but the adults had as much fun with it too!"
– Julie Candau, Temple Isaiah, January 26
"I have so many accolades to offer you and your team, it's hard to mention them all, yet I will attempt too. Firstly, Mark is absolutely unbelievable. My first communication to him about a possible change of venue was on Friday afternoon. We discussed that the "show must go on", but we just didn't know where. When we spoke again on Saturday at 1:00 and again hourly until about 3:30, when we officially concluded the new location was to be Max's Opera Cafe in Burlingame. I arrived at 4;00 pm, to meet with the restaurant owner to go over the minor details of creating a bar mitzvah party in 4 hours…and Mark had already found the location to set up and was well on his way to constructing your trellis structure. Your team members never once even mentioned the imposition we created from a different venue, further distance to travel and less time to make it happen. Yet, everything went so smoothly, it looked like the party was always meant to be just as it was. Furthermore, we know our next Bar Mitzvah party with you, for our younger son in 2 years, will be "a piece of cake". Once again, our most heart felt thanks to your entire team. ps: The extra flat screens TVs provided were amazing. (The unusual layout restrictions we had made those screens invaluable)"
– Bambi Feinberg, Max's Restaurant, January 5
"Please give them all a tap on the back! They did an awesome job, and it was such a memorable night! I've heard the best ECC party to date!"
– Jeniffer Faria – ECC, Westin St Francis Hotel, December 2
"Please forward this feedback to Mark. I tell you it was "OFF THE HOOK." You created a club for us with the music, lights, and the dance cubes added so much. It was so much more successful for the dancers to have their own room where they could just keep it going and going as opposed to one big ball room like we did last year. Mark and Chris worked their tails off. I mean blood, sweat and tears they put into that night without any breaks and took care of business. Mark did not stop pumping those jams all night long with a great mix of music from pop to rock to hip hop. Chris was a great side kick dancing and keeping the entertainment center stage. Mark was so nice, big smiles and a pleasure to work with. I forgot to offer them dinner until the end of the night and I still feel so bad about that. I am so sorry. I asked Mark if he wanted something later but he just had a big smile on his face and said he was truly fine. I was so impressed that I rounded up another $50 for the tip and so we gave $150 which I hope was a good tip because I wanted it to reflect how happy we were. Now you know you can never send me anyone ever but Mark! Thank you for making our corporate party anything but. And you can quote me on all of this!"
– Lori Colvin (Armanino McKenna), Diablo Country Club, December 14
"Everything was fabulous, just passed too quickly!"
– Alan & Betsy Zimmerman, Frantoio Ristorante, December 8
"Mark and his crew were fabulous….They were amazing… honestly they were fabulous, I was so overwhelmed by the evening that I didn't even have a chance to think about anything until I was driving home from the event."
– Cynthia Bailey, Commodore Boats, October 27
"We had an amazing celebration and denon and doyle helped make it happen. honestly, ruthie said "it was perfect, she would not have changed a thing"! what else can we say…thanks so much. everyone loved get flipped, too."
– Joyce Newstat, Lake Merced Golf Club, October 13
"OMG we LOVED Mark and Tyler. The party was fabulous and we have your staff to thank for it. Mark was incredibly helpful in every way imaginable. We could not have imagined Elliott's bar mitzvah going as well as it did. Please let Mark and Tyler know we are totally overjoyed with their work."
– Leah Seidler, Servino Restaurant, October 6
"It was great. All the kids had a fantastic time and Gabriel was over the top. A big thank you to your whole team…a job well done!"
– Jill Sandler, Temple Emanu-El, October 6
"We are all so happy here in the Feldman house. Everyone of us LOVED the party. Jack is on top of the world. He has seen a lot of party stuff and he swears this was the best one ever. You two were really fabulous…a few bumps and wow…did I see what you could do!"
– Lisa Feldman, Great American Music Hall, September 8
"Mark and the team were absolutely great at Max's Bar Mitzvah. I think they had to work a little harder because we had a small number of kids. The most important thing is that Max had a fantastic time. You can tell on the DVD how creative Mark and the team were."
– Karen Marriner, Temple Issaih, September 1
"The party WAS FABULOUS!!!!!!! Mark and gang were incredible, as I knew they would be! Everyone had a wonderful time and my guests have all commented on how great the entertainment was. PLUS… the banquet manager where I had the party told me he's seen many Bar Mitzvahs, and many DJ's. He even gave me the names of the 'very best' when I reserved the room. He told me at the end of the evening that this was by far the best he's ever seen! And he's seen a lot! So much thanks to you all from Gabe and me!!"
– Laura Gans, Mcinnis Golf Center, August 25
"We were absolutely delighted with Mark's work. He was the DJ for our son David's Bar Mitzvah 4 years ago, and he was wonderful then, so we had specifically requested him for Jessica's event. He has matured a bit in the intervening years, so if possible, he was even better than before. He was a real professional from start to finish, and a complete pleasure to deal with. Both Jessica and I felt that he listened really carefully to what we wanted, and gave us good suggestions when we weren't sure what we wanted. Every detail was covered, from Jessica's entrance with appropriate music all the way up to the last dance. One thing that struck me about Mark was his warmth and enthusiasm for people. He was excited to see a few kids whose Bar Mitzvahs he had done in the past, and made sure to give those kids a big greeting. He came and told me how happy he was to see those kids. He also came over at one point and told me that he knows my son's girlfriend, who works in the daycare center where his daughter goes. The human connection is obviously very important to him, and that's part of why he is so good at what he does. He loves his work, and it shows. We all enjoyed him thoroughly. All the kids (and adults) really warmed to him, which made the games and dancing go really well. The bubblewrap game was especially hilarious. I didn't get a chance to talk to Tyler, but he also did a very good job, quietly and professionally making sure all the right music was played at the right time. The candle lighting ceremony went off without a hitch, and everybody liked the music we had picked for them. Please feel free to use this as a letter of reference if any future customers want to know what your prior customers think of your company's service. We could not have been more pleased with Denon & Doyle, and if we have another event in the future that could use a DJ, we will definitely give you a call."
– Deborah Sandler, Congregation B'Nai Tikvah, August 4
"Everything was wonderful!!! Mark and Tyler were great! Adapted to a moments change, with a smile. and played a large part in the success of the evening!!!! Thank you and please thank them!"
– Sharon Viramontes, Concord Hilton, August 4
"Things couldn't have gone better. Mark and his team were outstanding – everyone at the party raved about them. I wouldn't hesitate to use them again or recommend them to my friends. Thanks for helping the party be such a huge success."
– Christine Goldstein, Sequoyah Country Club, July 28
"I have gotten so many compliments about the music and all that you and your team did. The dancers were great fun also. The bubble wrap was a hit with the kids. All my adult friends loved dancing as well. Thanks for running the show — it made it easy for me. I am happy to recommend you to anyone if you ever need that — I doubt it but I am happy to do it."
– Melb Muscarolas, Lafayette Memorial Hall, July 21
"I can not give enough credit to your group of entertainers. I was concerned about not having enough activities for the kids. (Photo booth, D. J. and my son's band to perform). As soon as the kids arrived Mark Addington started the hoola hoop contest the kids were totally engaged (all ages) the prizes were awesome and I had many friends say that the motivators and the D.J.were worth every penny. I 100% agree. I felt good that I didn't need a lot of extras (which I have found in other Bar Mitzvahs to pull the kids in lots of different directions instead of all just being together) not only did the kids love the whole experience but so did the adults. The music choices were perfect and Mark made my son smile the whole night. (for a shy quiet kid, it could not have been better. He kept him in the spot light and he was beaming). I booked far in advance and I am so glad I got the group of entertainers that I did. I think you all were the reason are party was so successful. Thank you, thank you, and thank you."
-Anne Rheins, Dominics at Poplar Creek, July 7
"Mark and the group were wonderful and you will certainly be hearing from us again to book future events! Thanks again for everything!!"
-Jenny Jeffrey, Private Residence, June 30
"Your crew was fabulous. Mark was awesome. All in all a very successful evening thank you so much."
-David Rubans, Temple Isaiah, June 23
"The party was fabulous and the kids had a great time. When I asked our school Principal, who attended the event, how it went, he said, "It was perfect". I will strongly urge next year's class to contact you guys as soon as possible to book the same crew for the event next year. Mark was extremely professional and very pleasant to work with through the planning process and all the way up to the night of the event. Please tell him thank you for us for being someone we could rely on to do a great job of entertaining the kids while keeping the tone and the playlist appropriately PG13! Your crew couldn't have been better."
-Paula Turner, Hall Middle School, June 15
"You have a true treasure in Mark. He made the graduation a truly special celebration, not only for the graduates, but for the parents as well. When Mark walked in several of the graduates went up and hugged him, and they were so excited that he was there. Quite simply, it would not have been the same without him. We ended the event with a picture of Mark surrounded by the graduates. I also wanted to comment on the wonderful selection of music Mark played. He respected all of the parents while making it fun for the children. If you ever need a reference please feel free to use us. Thank you again, and thank Mark."
-Michelle Huertas, Diablo Country Club, June 8
"Our committee met today and we all agreed that the kids were very happy with our party in general and with the dj in particular (none of us were there!) We do know they are harsh critics; throughout middle and high schools, every dj but this one and the one who did their senior ball has been slammed. Again thank you and thanks to Mark!"
-Susan Chapman, Athenian Grad Night, June 8
"We had a great Bat Mitzvah Saturday night. Mark A did a fantastic job!"
-Linda Noack, Private Residence, June 2
"Mark Addington and crew were so super-spectacular that they put ALL other teams to shame! We had an extremely successful multi-generational party where everyone was up at different times, and all together. I looooved the evening so much. I didn't get Mark's tip to him yet, but I will. Shall I send it care of you?"
-Ardith Plimack, Mill Valley Community Center, May 26
"We had a wonderful time largely because of Mark and the Denon & Doyle team! We received numerous compliments from our out of town family and friends. They were quick to mention how great the DJ was. Many of the local parents and friends that attended were shaking it and having a great time. (One of our friends is a math teacher at Diablo Vista Middle School. He was so impressed that he is interested in bring you guys in for their school dances.) A few of the boys in Micaela's B'nei Mitzvah class that are "not dancers" were getting their grove on for the first time ever! Micaela said that even some of the "professional party goer'" were having an extra special good time trying to be "Mark's" and hogging the microphone. There were kids from different communities that Micaela is involved with and kids in a wide age range. Many of these kids had never been to such a fun kid centered party. They had the time of their life! I loved the energy that was generated by the Denon & Doyle team. Mark's timing was perfect and consequently the whole event went very very smoothly. It certainly helped that I have a couple of fun loving kids that could not stop dancing and clowning around! (Ask Mark about my son Jared!) We are very grateful to Mark and the team for making our party such a success. We'll be calling you for Jared's Bar Mitzvah party (in 2010) as soon as we get the date from the temple!"
-Vivian Groman, Scotts Gardens, April 21
"The night was amazing as you know it flew past. Your crew did a fantastic job. I know they had a tight schedule due to the hotel running late , but you would never know. They actually brought an extra T.V. and that ended up working perfectly it was a nice add on thank you to Mark. We had lots of compliments on the ongoing slide show, people loved it. Wow, your crew actually bought my daughter a present, can you believe it!!!!!!!!!! The only thing I would let you know is that McKenzie was slightly disappointed because we thought she was going to have Sasha at the party as a motivator. Overall your team was sensational. Your whole organization has been nothing but professional polite and easy and fun to work with. Thank you! I'm sure you'll be hearing from us again for my son's (I would book you now but he's not sure he wants to do a dance thing.) I have given lots of recommendations."
-Jeanette Otus, Westin SF Hotel, March 17
"I wanted to write and thank you. My son had a wonderful time at his celebration following his becoming a Bar Mitzvah. His friends talked about the party for weeks. Many of them don't usually dance but there was not a kid sitting down at this party. Please know we would recommend you to anyone. We were particularly impressed with how you made the party unique to us. I have attended other parties you have MC'd and they were different — fun but different. You followed my son's requests and made the event what he wanted. He will have lasting fond memories of the simcha!"
-Melody Howe Weintraub, Lafayette Veteran Hall, March 10
"The event was wonderful, and Mark was perfect. We didn't spend a lot of time planning with him as we figured he knew what to do, and we were right. My daughter continues to see Mark at other parties where he is the DJ, and now they seem to have a special bond. An extra benefit to it all going so well. No question we will recommend your staff for future parties"
-Alan Sachs, Temple Isaiah, February 24
"We had a ball and Mark was a pleasure to work with. He understood we wanted to avoid the cliche music and get the adults and kids on the dance floor, together we succeeded and it was memorable for all concerned."
-Wendy McCollom, Marriott Hotel, February 10
"We had a great time at the Bat Mitzvah. Mark was tremendous and we couldn't be happier. In fact, we have already told him to put a hold on the date for our twins in Nov. 2008. We thought he read the group well and did a great job mixing games with dancing. Tyler, Kate and Jayne were also great. Bottom line – we were thrilled with Denon and Doyle."
-Judy & Howard Bailey, Round Hill Country Club, February 3
"Mark and the rest of the crew were out of this world. You are the best. Any opportunity that I have to refer you, be sure that I will do that."
-Yardena Roth, Embassy Suites San Rafael, January 27
"Thank you so much for all you guys did to make Victoria's Bat Mitzvah party a great success. Everybody had a wonderful time. The energy that your crew created was tremendous. For 4 1/2 hours it was nonstop fun for my daughter and her friends. Oh yeah, the adults enjoyed it too!! Thanks, again, for helping to make Victoria's party a memorable celebration for all our family and friends."
-Limberly Wallach, Claremont Resort, January 20
"Everything was spectacular. everyone was perfect. the kids had a fabulous time. Addington is tremendous, he put his heart and soul into this one. I unfortunately did not hang out on the dance floor and focus on the motivators, but I know everyone had an incredible time. My nephew is being bar mitzvah'd in NYC in June and insists on not just having motivators but a specific one of yours with blond hair!"
-Nina Frank, Stonetree Golf Club, January 13
"The party was so much fun. The kids had a great time and the adults were able to talk, and mingle, and enjoy watching the kids play. Mark and the team were just wonderful. They really kept it going! The photo bar was great as well. I would highly recommend your team and I hope we can work together again for my other son, Benjamin, on his Bar Mitzvah."
-Susan Preneta, Congregation Beth El, January 13
"The party was awesome due to the hard work, thorough preparation and planning by Mark! He is incredible and using him, you never have the need for a party planner. He is the party planner and I felt so comfortable knowing he really knows how to throw a party! Mark really knows how to make all the parts work. In fact, that is why I chose to have you provide the photo bar rather than use another vendor. Mark really went out of his way to make sure the party went smoothly and I really relied on him for guidance. You are very lucky to have him on your team. I would recommend him highly to everyone! He had a great team. I also appreciate the work of AJ with Jordan and how accommodating all your staff was to our needs. You really take all the stress out of party planning!"
-Beth Trafton, Crow Canyon Country Club, December 23
"Well we can not thank you all enough. It was all really fabulous. Mark & his crew are incredible. Really, I had absolutely no idea he was going to be so great…the kids had a ball, the adults did too & the adults had a ball watching the kids. Mark really knows what he is doing and he is such a nice person, which really helped us alot….cuz during all the planning, we really needed the support (& education about how to do all of this). And the buzz is…it was the best party ever!!!!!!!"
-Ellen Peterson, San Rafael Elks, December 16
"I want to thank Mark Addington and his team for providing the ultimate party event for my daughter. The bat mitzvah party is the talk of her school right now. My friends all had compliments about the entertainment. Some of the comments were: the dj was great, the music was good, the dancers were amazing, the party kept flowing, there was no down time, the dj and dancers had so much energy, the dancers demonstrated so many dance steps, the dancers were not just showing off, the dancers were excellent and really tried to help the guests with dance steps, the dj is great, the photo booth was fun, the plasma screen was a great tool to see a preview, the photos were printed fast, no long lines for photos, the dances were fun,… Several friends told me that this was "the best party" they have ever attended. And I agree with them. I was so impressed with Mark, the dancers, and the music selection. I loved the extras put into the decoration of the dj archway (the surfboard and tiki fire) to fit our tropical theme. I was surprised to see the cute key chain backing depicting Lisa's name in her favorite color, hot pink, and the beach scene. This really showed how much effort Mark put into the party planning and that he took note of what Lisa likes. We signed up for the photo bar a couple of weeks ago, yet he had created this perfect key chain backing for the photos! I also appreciated getting the CD of the music used for Lisa's candle lighting. That was another nice surprise. The kids were thrilled with lots of "new" experiences at this party. I think they had never danced the Coco Jambo with glow necklaces (that was a great idea!), they LOVED the umbrellas with snow, they were hopping all over the bubble wrap, and they enjoyed the beach volleyball (really perfect for our theme!). The dancers were so talented and helped the kids learn dance steps to many songs. The whole crew was smiling and helping throughout the night. With so many new and exciting dances and events, the party was certainly memorable. And with all the giveaways, the kids went home with many souvenirs including the fabulous photos from the photo bar. That was a VERY popular station. One of the guys said that I can get a CD of the photos taken. How do I get that? That would be great! Throughout the process, Mark was always available to answer questions, give ideas, and really helped us plan this wonderful party. This was our first bat mitzvah so we relied on his expertise. My son is having a bar mitzvah in 3 years and as soon as I know his date, I'm going to call Denon & Doyle and request Mark Addington. He recruited a great team of dancers, dj, and photo booth workers. Mark and his team had high energy and provided non-stop entertainment. I want to thank Mark and his team for going way beyond my expectations. This party was so fantastic. My daughter LOVED it. Her friends LOVED it. My friends LOVED it. My husband and I LOVED it. My son LOVED it. Even my mother-in-law's friends were impressed. Everyone enjoyed themselves at the party and they all complimented the entertainment first. Then they would mention the food or decor. It was the mc, dj, dancers, music, and all the fun that really stood out. Thanks so much to Dennon and Doyle. I'm so grateful that Steve Johnson, my videographer, recommended your company. I talked to Steve's wife this morning and she told me that they only recommend your company because you are the best. I agree."
-Rachel Kolm, Hotel Valencia, December 9
"it was everything you promised!!! The kids were very happy, the adults were happy, he worked well with Joel Siegel and his percussionist. He had a group of wild boys, almost no girls, and he kept them happy and out of trouble!!!His assistants were pleasant, fun without being pushy and obnoxious, and great to be around!! Compliments all around!!!!THANKS SO MUCH FOR EVERYTHING. It was a great time had by all, even dancer extraordinaire Julia, noah's sister, age 4. all the best."
-Merrie Jaffe, Presidio Officers Club, December 2
"Mark and the entire crew were just sensational. I wouldn't change a thing. Mark has just the right touch for making it work for adults as well as kids. I will be recommending him to anyone who is looking for a DJ. I believe Head-Royce will be contacting you about the 8th grade graduation party." -Laura Katz, Caffe Verbena, November 18
"My husband and I were very pleased with D & D. Mark did a great job. All the kids said they liked the mix of music. The dancers worked hard in the beginning, running the games and getting everyone out on the floor. Towards the end of the party, the kids seemed to want their privacy and to not have the dancers on the floor. Mark picked up on this and called them back. Overall, the level of enthusiasm was great as was the professionalism. We would definately hire your firm again."
-Michell & Susan Cohen, Presidio Log Cabin, November 11
"It was amazing! I asked my Sam what he thought of the party and he just smiled and said "Fun, Fun and Fun". Mark's attitude and commitment to his client's needs is at the highest level I have ever seen in a service of any kind, but the really exceptional quality is Mark and the entire team's creativity and ability to adjust on the fly. Please give everyone our thanks and gratitude for helping to make this a very unforgettable evening! Would we use D and D and this team again? Well, I would like to book them for my second Son's Bar Mitzvah, July 5th 2008!"
-Lisa Vogel, Peacock Gap Country Club, November 4
"Mark and his team were wonderful. Thank you very much! Everyone loved the party."
-Alina Roshal, San Ramon Marriott, October 28
"Our event was an SPECTACULAR success! Mark "got" who we were and what we wanted from our very first conversation, and it went seamlessly from there. Mark orchestrated a "Grand Entrance" for Seth, something I hadn't thought of. When I saw the rapturous look on my son's face as he strutted to the theme of his favorite show, "Kids in the Hall," I knew my son had been given a moment he would always cherish, as would I. I am so grateful for Mark and his crew for anticipating our every need: each song seemed specially chosen to make the moment memorable; the games entertained the kids non-stop; the parents could talk and eat instead of telling their children to sit still; and the older folks mentioned several times how the music was not too loud. We even had a couple of kids who want to become Jewish now! (Mark, the Tribe needs you!!! JK :)) I sang Denon & Doyle's praises to the skies and passed out cards to anyone with hands. You are our go-to guys for parties from now on!"
-Stephanie Landers, Camden Community Center, October 22
"I must take the time to compliment Mark Addington and his crew for making our celebration the talk of the town. We are New Yorkers who grew up in the disco age and appreciate when someone knows what they are doing. I must say that I was more than impressed by their professionalism and talent by putting together a great mix of perfect music as well as interaction with the guests, Our New York crowd were even saying the D.J. and the crew are better than anyone they have ever seen in New York. That's a huge compliment. My husband and I both have businesses and already have been recommending your services."
-George Chetrit, Blackhawk Country Club, October 21
"I can not speak highly enough of Mark and Tyler! I could tell right away when I first spoke with Mark on the phone that he would be a dream to work with, and he absolutely was. His vibrant personality and the passion he has for his work was contagious. He showed extraordinary sensitivity in being able to read the crowd and respond with the kind of interaction that was needed at any given time, was super lively and fun, while being respectful with the kids, which invited their participation without being embarrassing. I didn't have as much interaction with Tyler, but the two of them seemed to be a great team together. Please pass on my feedback to them, they were an absolute pleasure to work with, and made Lyla's party a special memory that we will all treasure."
-Jennie Oppenheimer, Private Residence, October 14
"The Bar Mitzvah celebration (and the Bar Mitzvah) was wonderful. Everyone had a good time. Mark, Tyler and Pam did a wonderful job. Mark was particularly effective at getting Jordan up in the chair, and our guests were all complimentary about him and the two, "shills" as my family called them. Things went smoothly and as planned. Adults and kids were happy. Couldn't ask for more. Well, my son is telling me there's one thing, apparently he neglected to take home any of the goodies. We will be happy to recommend you to others and/or to consider you when the need arises."
-Laurie Steinberg, Postino Restaurant, October 7
"The party was unbelievable. Haley had comments at her school all day long indicating that it was the "party of the year" I think both adults and children had the best time yet. Mark is the best DJ around. He helped me coordinate all of the vendors and deal with an especially tricky general manager at our hall. Please feel free to have future clients ask me for references . I look forward to booking my next daughters Bat Mitzvah with you in January."
-Mauren Goldlist, Lafayette Veteran Memorial Hall, October 7
"We had a great time. In fact I just booked Mark for Sept. 2008. Thanks!"
-Lise Wollenberg, Private Residence, September 9
"Everything was perfect. Please pass on to Mark and his team our deep appreciation for their work. Mark was very calming through some tough moments at the beginning of the evening and just did a great job with everything. We'll be calling you as soon as we get Andrew's date for 2009!"
-Michelle Ferber, Blackhawk Country Club, September 2
"Mark did a great job as did his whole team. We were very happy with everyone and received lots of compliments from family and friends. Thank you very much!!!"
-Tracy Gordon, Orinda Country Club, August 26
"WOW! Children,adults,vendors and staff had a blast. The adults enjoyed having music that they could relate to and they appreciated the quiet time to enjoy dinner. Mark did an outstanding job of managing guest mood and music. Playing John Mayer's "Fathers be good to your daughters" was particularly memorable. Also, all of the adults commented on the dancers and thought they did a great job."
-Stacey Schwartz, Scott's Gardens, August 19
"Mark and the team that he assembled were exceptional in every sense of the word. They truly understood what we wanted, when we wanted it and how to do what we wanted. They not only made the party joyful, but also extremely memorable and meaningful for everyone including young kids, teenagers, adults and the senior citizens as well. We will hire your services when the need presents itself in the future without hesitation. Thank you all for your energy, enthusiasm and professionalism. You are lucky to have Mark as one of your MC's"
-Linda Noack, Fremont Hills Country Club, August 12
"There is absolutely no words to really describe the entire team that night…. ok, let's try… fantastic, wonderful, stupendous, outrageous! I am anxious to watch the video when it is done because I was so busy a lot of the time I didn't get a chance to watch dance floor games and dancing. I started out dancing and then never got a chance to get back. I received so many compliments from friends and family. Some even came asking for Mark's number which I told them to go over and ask him for his card. They were energetic and inviting to everyone. And some friends from the east coast who are making affairs soon loved that Mark started the kids into the room to get started during the cocktail hour. That was a great idea. Getting the kids warmed up without the adults there… great. Mark is really the best. He is so incredibly talented at what he does. From soup to nuts he was thorough, he was friendly, professional, and his excitement was contageous. I had some kids there that were on the shy side… or one neighbor's child who they were worried about 'cause he was so uncomfortable in his suit before they went to the party…. he turned into a party animal and was wearing all the hats, glasses, etc… playing the games, dancing on the riser, totally amazing!! His parents said that it was the best party they have ever been too (first bar mitzvah) and said it was better than any wedding too. That should say alot. The two main things that make a party successful is a great MC/DJ and good food…. and Mark really made it into the best party it could be. The memories will be cherished for a lifetime!"
-Randi Goldman, Concord Hilton, July 29
"I cannot say enough about how great everyone was. I have added Denon and Doyle to the book of recommended service providers for our synagoge's Bar/Bat Mitzvah book. Gabe and his dad Michael were worried about the music mix before the party. Gabe wanted enough songs for his friends to dance to and did not want too many "adult" songs. Michael wanted enough songs for our friends to dance to and then throw in my mother who wanted to do some ballroom dancing! I don't know who was responsible for the song mix but whoever it was made the perfect mix of dance songs; everyone was happy. There were even some songs that had every generation on the dance floor together which we never imagined happening and we really enjoyed. Gabe was happy, Michael was happy, my mom was happy! That doesn't happen very often! Mark's personality and energy were fabulous and he created a very joyous, upbeat party. It was so cute and such a good idea to start the party with the hoola hoops. Even the six year olds had a good time! He taught the two Israeli dances in a really fun way and got everyone there involved. He kept things moving when they needed, and he got things to quiet down when people needed that too. The give-away items were perfect. Mark brought the best things. The balloons were fun. Everyone, every age, played air guitar with the blown-up guitars, and Gabe's friends loved the make believe microphones! I don't remember the young man's name who came with Mark, Tyrone? But I would like to give him extra praise. My mother-in-law was there without a partner and he made her very, very happy when he asked her to dance. She is not the healthiest person right now, and he was able to set the pace of the dance to her ability. She told us later that dancing with him was one of the highlights of the evening for her! So I want to thank him very much for bringing her some happiness. That sounds kind of hokey, but I sincerely mean it. Was it Minita that had the lovely decoration on her forehead? She did a very great job teaching me and my friends dance moves, which was really fun. She has great, very sweet energy. It was really fun dancing around with her. [Next time, she should probably not show people where the bar is, since most guests who are actually supposed to be at the party already know where the bar is! (But no harm done!)] The other young women was a big hit with the teen-agers who were very impressed that she was the same age as them and could dance with them. Having the dancers on the dance floor made it easier for Gabe's friends to feel comfortable dancing right away. That is such a great idea! I cannot say enough praise about the wonderful wonderful work everyone did. Thank you very very much for everything."
-Rhonda Barovsky, Scott's Seafood Oakland, July 1