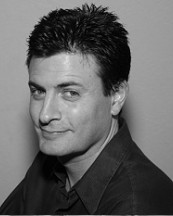 Martin Hodge was a big Middle-America Guy. Born in South Africa — wait, that's not the middle-America part. Then the family moved to England, which… also isn't in middle-America. Ah! He grew up in Detroit (after jolly old England) — there you go!
His dad worked in the auto industry (which, when one lived in Detroit pre-1990, was about as common as being a fish in water). Martin was a shop rat, earning a few bucks by sweeping the floors, driving a forklift, and assisting in the pattern shop (where they make hood ornaments and other such niceties).
Mr. Middle-America Guy went on to earn his bachelor's degree in Business Administration and Spanish, then a master's in Spanish. He taught at the University for about eight years. Somewhere along the line, he grew tired of being just an educator Middle-America Guy. It was time for a tune-up, if you will (and, should you decide you won't, please notify the webmaster within 30 minutes to have your time refunded).
He got some of his mojo back via DJing. He actually got his first taste by making a few mix tapes for a family wedding back in the late 80's. A few random college parties in the 90's turned into a serious weekend fix a few years later. He quickly rose to become a DJ star in Motown (you could see him near Venus on really clear nights) … but still, he was starving for a culture infusion.
He migrated west and fell in love with San Francisco immediately. Then he saw how much it cost to live there and he fell out of love immediately.
He now enjoys running around Lake Merritt, meeting people and making friends in the local bars and health clubs. He knew he'd found "home diversified" when he observed a Fijian woman and a Canadian man arguing over immigration. That, and seeing a Chihuahua run around a biker bar on New Year's Eve told him all he needed to know. Welcome home, Martin. We're thrilled to have you.

"We are very pleased with the service we received from [Martin]. When we return from our honeymoon (Maui), we plan to post online reviews and D&D is a five star rating."
-Jack Chu, Claremont Resort & Spa, May 10
"Martin was fantastic and your operation was flawlessly executed."
-Lauren Imparato, Private Residence, August 31
"We were so happy with both Martin and the photobooth staff at our wedding reception. Everyone had a great time! Thank you for everything!"
-Danielle Sommers, Private Residence, October 27
"Thanks for reaching out, and for the kind words. Martin was absolutely amazing! Timings, music selection, etc. were all on point. His assistant was also incredibly nice and helpful. You guys did a great job. The one hickup was the recessional song was a different U2 song, but it was not that big of an issue. (this was a last minute change.) Everything else was fantastic!"
-Marlena Beardsworth, Lucie Stern Community Center, July 28
"Martin was FANTASTIC– he really helped keep the reception upbeat when Brix screwed things up with our timeline. He also put a lot of time and effort into our playlist– I can't compliment him enough."
-Jordan Gilleland, Brix Restaurant, May 26
"Everything went great! Martin was extremely professional and did a great job of announcing the events and keeping the evening moving. The dance floor was packed all night long! It was a great success! I will definitely recommend Denon & Doyle to my friends and family."
-Amber Filosa, Las Positas Vineyards, September 24
"Thank you! We had a wonderful wedding and I can't give Martin enough complements. We had all of my friends and all of my parent's friends on the dance floor the majority of the night. Everyone has been talking about how that was the best dance party they have been to and especially to have so many different ages out there at once. We had a conga line with well over 100 people and I was the lead! Thanks for everything!"
-Lauren Parente, Trentadue Winery, September 10
"Thanks for checking in and being part of a fabulous event! It was just one big love fest — everyone loved the venue, the food, the ceremony, the DJ and music, the service, the bride's dress, the rings, meeting new people and on and on. It was all great! I certainly got caught up in the swirl of the event and so don't have anything like a news reporters objectivity. I danced up a storm (and I believe there are fun pictures to prove it). Many people got on the floor young and old. A lot of the dance songs I had suggested were still killer good. Michael Jackson, Eddie Grant's Electric Avenue and New Order Blue Monday got the place hoppin;. When you get some of the older attendees up and dancing to "I Wanna Be Sedated" you really have accomplished something! We had one attendee from India. I had originally put on the list Jai Ho (I believe it is called) from Slumdog Millionaire. I think I pulled it, but Martin pulled out one of my friend's Bollywood favorites and got him dancing too. The jazz and dinner time music worked great too. It was comforting throughout to have a fair amount of music that I was familiar with and that the ones that Martin and you selected worked so wonderfully and drew lots of unsolicited compliments too. A little comfort is nice, because I tell you at the start of the ceremony, I was experiencing sweaty palms in a way that I had not experienced before! Of course, it all worked out, I even spoke quite well during the ceremony. Thanks again for being part of a great day!!!"
-Louis Irwin, McCorkmick & Kuleto's, September 4
"As requested, we wanted to share a little bit of feedback from the night. Martin was fantastic. He was very professional and followed all of our requests. He really did not miss a thing and we truly enjoyed working with him."
-Matt Hodges, Concannon Vineyards, August 13
"Martin, you were a fantastic DJ! Several people have commented on the great selection of music you played, and really enjoyed your choice of musical selections transitioning from Gotan Project to more alt- choices such as The Cure. Or, as one person wrote: '…and the music was fabulous–from Cole Porter to Violent Femmes! Shimi and I had a blast staying late for the 80s hits. 🙂 …So, thank you for a wonderful party!' Many people have also asked for the playlist I sent to you, as well as for your contact information, so hopefully you'll be hearing from our friends in the not too distant future. Martin, thanks for supplying such a great choice of music. Perhaps the best compliment I can pay is that lots of people want us to do the exact same party for our one year anniversary, and they've specifically requested the same combination of music–live jazz to begin, followed by your DJing… Thanks very much for setting the tone and ambiance for the later half of the evening."
-Chris Bedford, Bix Restaurant, June 4
"Thanks for following up. We had a blast at the wedding and Martin did a terrific job. Everyone loved the music which was evident by the number of guests dancing the night away. Couldn't have asked for a better time. Thanks to your and your team, especially Martin, for making everything so seamless and stress-free for us!"
-Brian Berg, Mountain Terrace, May 28
"I can't tell u how happy we were with your company and Martin. He did an amazing job, we had a big dancing crew. Thanks again"
-Aimee Reed, Trentadue Winery, October 24
"I want to let you know that Martin did a FABULOUS job at our wedding! Everyone at the reception had such a great time and it flowed so well! He is clearly a fantastic professional!! All the preparation we did certainly paid off and I believe he played every song we asked for! So thank you!!"
-Erin Schubert, Garden Court Hotel, September 5
"Gary and I absolutely loved the DJ services by Denon and Doyle. From the get-go, you guys were professional, upbeat, and supportive – just the right combination of helpful and hands-off. The online questionnaire gave us great perspective on how to organize the evening, and the phone calls with you were also extremely helpful. We will definitely recommend you to other brides and grooms! "
-Karin Wertz, Palace Hotel, July 31
"Wonderful evening and Martin was just fantastic. He had the dance floor packed all night… even my wife's grandmother was feelin' the groove!! "
Martin & Ji, Auberge du Soleil, July 17
"It was an amazing wedding!! Jesse and I were so impressed with Martin and Jason. Jason did a wonderful job at the ceremony. Everyone said that when "Jessie's Girl" was cued up and we walked away towards the GG Bridge that it looked like something out of a movie! ( and sounded like it too!) Martin was so professional and organized, even when I wasn't so organized! 😉 He rolled with all of the little things that went on, and was a fantastic MC and DJ!
I am going to write rave reviews on Yelp, as well as tell any friends or family having weddings in the bay area to hire Denon & Doyle!
Thank you so much for all of your help and guidance!!"
-Catherine Clobucker, Presidio Officers Club, July 3
"The wedding was wonderful. Martin was so great and he played a good mix of songs that kept the dance floor going most of the time. He also did very well with the timing and announcements of events. He was really friendly and wonderful to work with. Thank you for choosing him as our DJ!
It was so nice to work with you and Denon & Doyle. I can see why you come recommended by the Sir Francis and The Knot. The service was top notch and took stress off of my shoulders. I really appreciate that."
-Cristyn Gunther, Sir Francis Drake, June 12
"We just got back into town from the honeymoon — so glad you emailed!! I can't tell you how much we loved Martin!!!! He was fabulous. So many of our friends commented about what a great job he did — he really kept people on the dance floor the whole night. We will definitely be recommending your company to anyone planning an event out on the east coast."
-Kristie DiSalvo, Bridges Golf Club, May 29
"The wedding went great, Martin did a wonderful job, he was very professional and friendly. I don't see how anything could have gone better."
-Daniel Adams, Fairmont Hotel, October 24
"As for our comment/critics – excellent service. We all danced the night away. Martin was awesome!! Very nice and just so easy to work with and talk to. He knew just the right music w/ just the little direction we had provided to you all. We were very pleased. My brother videotaped the ceremony and all that so I cannot wait to see all that I had not been able to as being the bride in the wedding. Never realized how much you miss out on, haha. Casey and I plan on writing a letter of appreciation when we get some time to do so."
-Carol Roche, Scott's Gardens, September 26
"Martin was just the right DJ for my party!! Thanks for sending choosing him!! Everyone liked his selections and great mix!! "
-Mohammed Alkhulaifi, the "W" Hotel, August 29
"Martin was GREAT! Overall, Denon and Doyle has been a great experience for us. I even want to thank Mark Addington for roping me in and deciding to use you guys! Martin did such a good job people didn't want to leave at the end of the night and not once was the dance floor empty (NO JOKE!!). I've already recommended you to many people and will continue to do so."
-Hailey Warren, Acqua Hotel, August 15
"The wedding went perfectly. Martin did a superb job and matched the music to the moment perfectly and followed our wishes. He got a lot of compliments from our guests."
-Jeffrey & Ella, Wente Vineyards, August 2