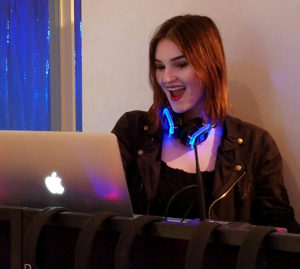 Stephanie Shideler
Fact—the average person is more loyal to their hair stylist than their doctor, at least according to a recent survey that we just made up. What is undeniably true, though, is that when it comes to the world of hair, loyalty runs deep. When you find someone that you trust to do a job right, there's a comfort level and confidence in that person's ability to deliver. As a company built on referrals, we know the same is true when you find a great DJ. So it's no surprise that Stephanie Shideler is as skilled behind a mixer and the wheels of steel as she is with her flat iron and shears of Japanese steel.
In both worlds, her toughest challenges are also the most rewarding for her. For example, if a client sits down in her chair and says, "I want highlights, but no highlights" (a true story) or if a client throwing a party says, "I want people to dance, but I don't like dance music" (also a true story), it can be daunting for any professional. In either scenario, however, Stephanie's response is the same: "I got you."
She approaches each client with the same focus and passion and lives for that beautiful moment when it all comes together perfectly. "For me, one of the greatest feelings is when a client says, 'that was exactly what I wanted,' even if they didn't even know what they wanted at first," she explains with a smile. While music and performing has always been a part of her life (she plays five instruments—yes, five), Stephanie attributes much of her success to her eye for detail. She takes time to learn the technical aspects of her craft. She makes it a point to notice the little things that reveal something much bigger about a person and their vision of what they want.
When not psychically making dreams come true, Stephanie can be found planning one of her many trips to Disneyland with friends (where she never leaves before riding the Haunted Mansion), spending time with her close-knit family, or possibly doing some karaoke. Well, the karaoke may not be in frequent rotation, but it was how our owners first noticed Stephanie and practically begged her to become a DJ. Take it from us, the girl's got pipes—and that can be useful in the off chance of, say, a power outage at your event. Even more useful, however, is knowing that when you book Stephanie as your DJ, you can trust she will make sure your hair is as equally on point as her music selection.