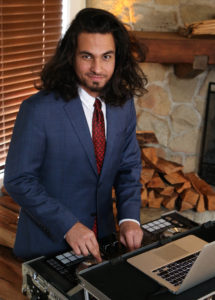 It was a plane ride that would change Zee Hussaini's life forever. Not the one you might assume, though, for a young man who moved to the United States as a teenager. It was actually the plane ride that brought him to his first sky diving experience that shaped his life perspective dramatically; the moment where he learned to turn feeling nervous into feeling excited. Overcoming that challenge became a symbol for his journey to a new country with new faces, new customs, new expectations, new food, and a new adjustment to everyday life. Fortunately for Zee, that also meant new music.
While Zee credits much of his musical knowledge to his childhood spent in Dubai, adopting the music scene in the Bay Area opened his mind to many new genres and styles and helped cement his new surroundings as home. One of those new (well, new to him, at least) styles, jazz, has now become his preferred choice of audible enjoyment during any free time he might have.
That might surprise some people who have seen him in action, as he is often known amongst DJ circles for knowing all the chart-toppers before they even become mega-hits. "I think that's what helps me so much on events," Zee explains, "because I'm really on top of the newest music, but also have such a strong grasp on older music and the multi-ethnic elements I was exposed to in Dubai." Those cultural cross-sections didn't just teach Zee how to speak 5 languages (Arabic, Hindi, Turkish, Persian, English), but also how to appreciate and connect with people of different backgrounds. It's a skill he uses behind the turntables, as well, when expertly catering to crowds with differing musical tastes.
As a DJ who is as hard-working as he is versatile, Zee gets to give back some of the joy that music has given him through the years. Plus, the intense adrenaline rush from a packed dance floor is a feeling he absolutely lives for. It's the same feeling that takes him back to that plane ride that changed everything. He recalls that skydiving experience in a way that perfectly sums up his journey to the US and his approach to life as a DJ: "there's that moment where you're nervous and unsure of what might happen, but you trust the reason you decided to do it in the first place, but what's so incredible is all you end up focusing on is how much fun you're having and how excited you are for the next challenge."